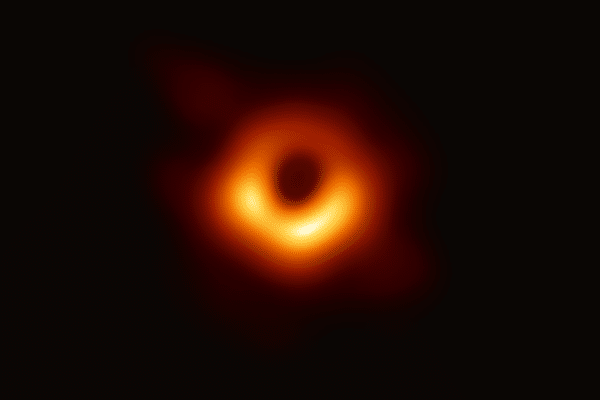 The first image of a black hole has been captured helping to improve our understanding of the universe's most enigmatic objects. The black hole itself – is unseeable!?!
However the fuzzy image released is that of a halo of dust and gas, tracing the outline of a colossal black hole, at the heart of Messier 87.
A galaxy some 55 million light years from Earth. It measures 40 billion kilometres across – three million times the size of the Earth – labelled by scientists as "a monster".
The image was captured by the Event Horizon Telescope (EHT), a network of eight radio telescopes in an joint global effort involving more than 200 scientists.
The image gives the first direct glimpse of a black hole's accretion disk, a fuzzy doughnut-shaped ring of gas and dust.
The EHT picks up radiation emitted by particles within the disk that are heated to billions of degrees as they swirl around the black hole at close to the speed of light.
The halo's crescent-like appearance in the image is because the particles in the side of the disk rotating towards Earth are flung towards us faster and so appear brighter.
The dark shadow within marks the edge of the event horizon, the point of no return, beyond which no light or matter can travel fast enough to escape the inexorable gravitational pull of the black hole.
Black holes were first predicted by Einstein's theory of relativity – although Einstein himself was sceptical that they actually existed.
Since then, astronomers have accumulated overwhelming evidence that these cosmic sinkholes are out there, including recent detection of gravitational waves that ripple across the cosmos when pairs of them collide.
Black holes are extremely dense pockets of matter, objects of such incredible mass and miniscule volume that they drastically warp the fabric of space-time. Anything that passes too close, from a wandering star to a photon of light, gets captured.
Most black holes are the condensed remnants of a massive star, the collapsed core that remains following an explosive supernova. However, the black hole family tree has several branches, from tiny structures on par with a human cell to enormous giants billions of times more massive than our sun.