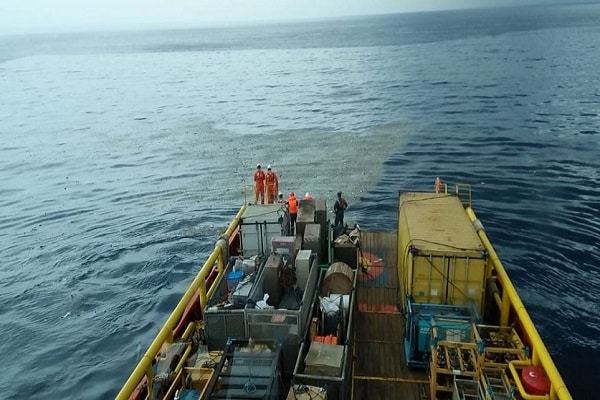 Indonesian officials said the Lion's Air jet was on an hour and ten-minute flight to Pangkal Pinang. That's located on an island chain off Sumatra. The plane was carrying 181 passengers when it crashed into the sea. Those included one child and two babies, and seven crew members.
According to reports, Lion Air's president has said. the plane had a technical issue on its last flight that was resolved. The company's President Edward Sirait claimed the technical problem on Boeing 737 Max 8 plane was resolved in accordance with the manufacturer's procedures.
He gave no more details but confirmed that the issue on the earlier flight would be part of the investigation of Monday's crash. Separately, Indonesia's Directorate-General of Air Transport said the flight from Jakarta to Pangkal Pinang requested to return to Jakarta shortly after take-off from the capital's airport.
Serpihan pesawat Lion Air JT 610 yang jatuh di perairan Karawang. Beberapa kapal tug boad membantu menangani evakuasi. Video diambil petugas tug boad yang ada di perairan Karawang. pic.twitter.com/4GhKcRYkpG

— Sutopo Purwo Nugroho (@Sutopo_PN) October 29, 2018

In a statement, Sindu Rahayu said, "The plane had requested a return to base before disappearing from the radar." The National Search and Rescue Agency claimed that the flight ended in waters off West Java that are 98 to 115ft deep.
The agency confirmed that divers are trying to locate the wreckage. The Boeing 737-800 plane departed Jakarta, about 6.20am for Pangkal Pinang. Data for Flight 610 on aircraft tracking website FlightAware ends just a few moments after takeoff.
The crash is the worst airline disaster in Indonesia since an AirAsia flight went into the sea in December 2014, killing all 162 on board. Lion Air is one of Indonesia's largest airlines, flying to dozens of domestic and international destinations.
Jatuhnya pesawat Lion Air JT 610 di dekat fasilitas Anak usaha PT Pertamina (Persero), Pertamina Hulu Energi Offshore North West Java (PHE ONWJ) di lepas pantai di utara Bekasi, Jawa Barat. Petugas PHE ONWJ melakukan evakuasi dan mengambil dokumentasi. pic.twitter.com/Xq0kQjAWe8

— Sutopo Purwo Nugroho (@Sutopo_PN) October 29, 2018