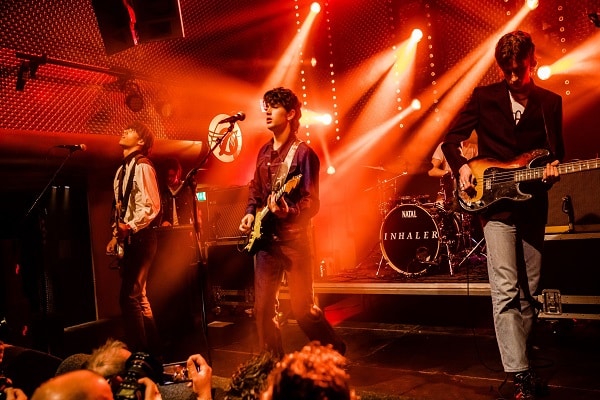 Inhaler have hinted that new music may be on the way.
The Dublin group who are fronted by Elijah Hewson, the son of U2 frontman Bono, took to social media. They posted four images of themselves in the studio with a date of June 10.
This would appear to indicate that Inhaler are to release new music in the next fortnight.
Check out the post below.
June 10th

📸 @lewsvans pic.twitter.com/nkmRFQ15Of

— Inhaler (@InhalerDublin) May 30, 2022
Speaking of June, Inhaler are also set for a major live gig on home soil later on that month.
Back in February, it was confirmed that the band would take to the stage Dublin's Fairview Park on June 25. More on this from Nova here.
'It Won't Always Be Like This'
This show comes following the release of the band's debut UK and Irish number one album, 'It Won't Always Be Like This' a few months back.
Last Summer, Inhaler frontman Elijah Hewson did admit that being Bono's son did open "alot of doors". However, he did insist that he still needed to prove himself.
"I don't blame people who are interested in it", Hewson said when asked about the press received over his father. "I would be interested if I heard that some person was in the same position I was in". 
"It has definitely allowed a lot of doors to be opened", the Inhaler singer admitted. "But I think those doors shut just as fast because some people may have pre-biases to the band". 
"But we are OK with that as long as you come to see a show and you buy a T-shirt on the way out". 
"But I think we have grown to accept it", Hewson added. "It is what it is. I don't think there is much point deflecting. If people want to talk about it, they want to talk about it". 
"We have definitely found our own fanbase in the UK who maybe don't know who U2 is or are".  More on this from Nova here.
Speaking of Bono, the U2 star has a new memoir in the works, and has also been reportedly writing new music for the upcoming Jim Sheridan biopic.