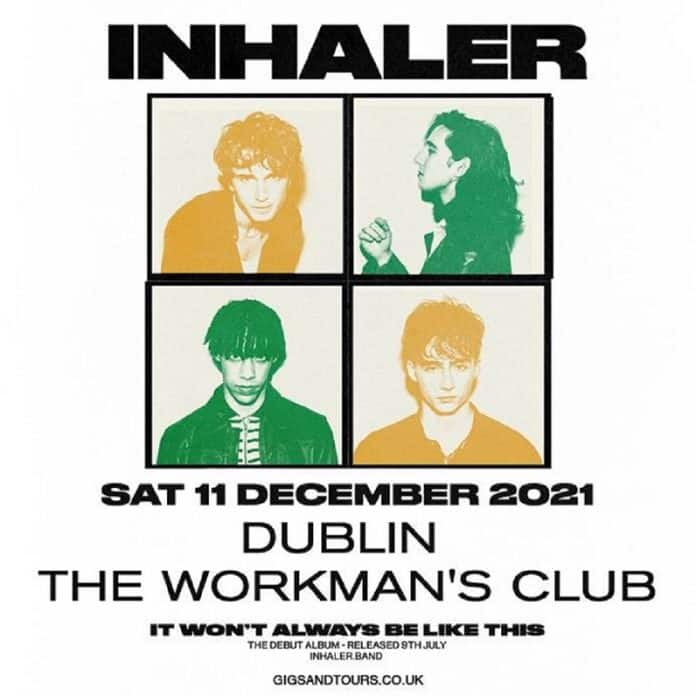 In advance of the release of their highly anticipated debut album It Won't Always Be Like This on Friday, Inhaler have announced an intimate album show at Dublin's The Workman's Club on Saturday 11th December.
Tickets go on sale tomorrow morning at 10am.
On the new show date, the band say, "We cannot wait to come back to the Workman's Club. This is one of our favourite venues in Dublin where we share a lot of memories of early gigging days. We look forward to seeing you all there in December."
A Covid-enforced delay encouraged the four-piece to find new levels as a band, opening up both their sound and their lyrical themes. Songs about meeting girls turned into reflections on society and how to get through tough periods. "We started writing this when we were teenagers and now we're adults," says Keating. "I wanted the songs to feel positive," adds Hewson. "Because… it won't always be like this."
In addition to the new Workman's Club date, Inhaler will be touring Ireland later this year.
Full run of dates is listed below:
December 2021
Sat 11 Dec – Dublin, Workman's Club *NEW DATE* – Intimate album show
Sun 12 Dec – Belfast, Limelight 2 – Intimate album show
Tue 14 Dec – Belfast, Limelight 1
Wed 15 Dec – Limerick, Dolan's Warehouse
Thu 16 Dec – Cork, Cyprus Avenue
Fri 17 Dec – Killarney, INEC Acoustic Club
Sun 19 Dec – Dublin, Academy
Mon 20 Dec – Dublin, Academy
Tue 21 Dec – Dublin, Academy
Wed 22 Dec – Dublin, Academy