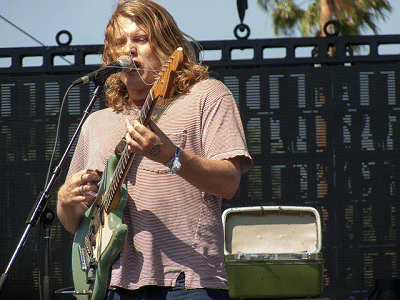 Seventies revivalist Ty Segall shared a trippy new interactive music video for his first single 'Manipulator'.
The psychedelic video can be altered by clicking different background objects, to create freaky and kaleidoscopic imagery.
The video has three different scenes, one of Ty Segall sitting in a bedroom, where the curtains can turn on fire or become hot dogs, a close up shot of the singer's face, which can be altered to include a beard or glasses and finally ends in a desert setting you can add aliens to.
There are an endless number of possible visual combinations that you can change, it's up to you which colours and objects are manipulated by simply clicking on the interactive screen.
Speaking to the New York Times, Director Matt Yoka said it was inspired by early MTV videos like Peter Gabriel's classic 'Sledgehammer' along with printed imagery. "I was going into bookstores and buying art books with a guilty face, purchasing them knowing I would destroy them. But the people at the registers could sense that and they'd say: 'These are really good for cutting up.'"
Make your own Manipulator video on Ty Segall's website or watch the director's version below.
Ty Segall's musical style draws from Bowie, Black Sabbath, The Stooges and The Beatles. His new album titled Manipilator will be his seventh solo release. His new LP has been compared to David Bowie's Diamond Dogs,  the New York Dolls' Too Much Too Soon and Neil Young's On The Beach.
The singer is a fairly prolific musician, releasing a steady string of records since his debut album Ty Segall in 2008. The Bay Area rocker is also a member of a number of other groups, including Fuzz, The Traditional Fools, Epsilons, Party Fowl, Sic Alps, The Perverts, as well the Ty Segall Band.
Ty Segall's album Manipilator is available to buy now.
Check out the album teaser below.
Track list:
1. Manipulator
2. Tall Man, Skinny Lady
3. The Singer
4. It's Over
5. Feel
6. The Faker
7. The Clock
8. Green Belly
9. The Connection Man
10. Mister Main
11. The Hand
12. Susie Thumb
13. Don't You Want to Know? (Sue)
14. The Crawler
15. Who's Producing You?
16. The Feels
17. Stick Around