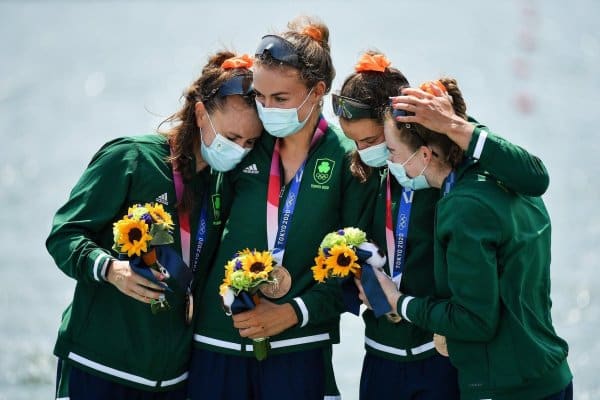 Ireland's first medal of the Tokyo 2020 Olympic Games was secured in rowing this morning as the Women's Four of Aifric Keogh, Eimear Lambe, Fiona Murtagh and Emily Hegarty won Olympic bronze in thrilling fashion.
The Irish quartet were lying fifth at the halfway mark and, as they passed the 1000m mark, they pushed passed China, increasing the pressure on GB, before eventually passing them at the closing stages to take home the bronze.
Speaking after the race, the thrilled Irish crew described the strategies they worked with: "The race was a blur really, it went by so fast. Eimear was calling our strategies out, and it felt like she was calling them early, but then I looked out and we were at that point. It was very quick. It wasn't the best race, but we always say we want to be the best on our worst day too, and we pulled that off.
"We always know that the second half is our stronger part, so we tried to stay with the pack as much as we can, so at this stage their strategies are probably to put as much time into us in the first half. And they did that!"
While you were sleeping…

The Women's Four smashed their final this morning in Tokyo with an unbelievable finish seeing them home to an Olympic bronze medal 💪🏻🇮🇪🥉#TeamIreland #Tokyo2020 pic.twitter.com/M66mxB41mu

— Team Ireland (@TeamIreland) July 28, 2021