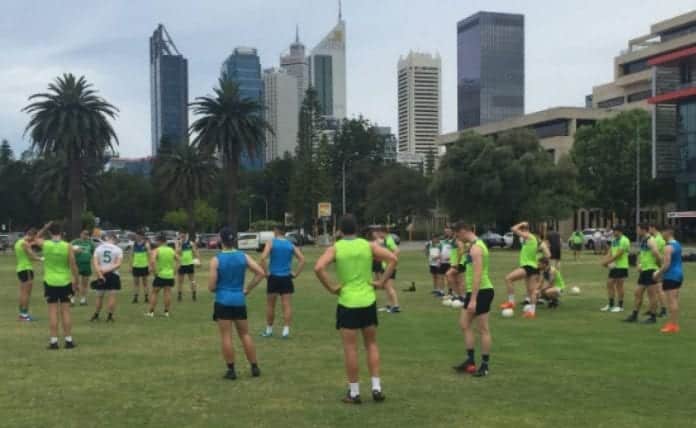 Saturday morning will see the Irish contingent try and overturn a 10-point deficit to overcome Australia in their second test game of the International Rules Series.
The game which will kick off at 8.45am (Irish time), takes place in Perth, as both Ciaran Sheehan and Monaghan's Darren Hughes are called up to the squad.
Cork's Sheehan has been a feature for Aussie side Carlton over the years, knowing the ferocity of the Australian game.
The first test last weekend saw Australia come away with a win, and 10 points to spare over a lack lustre Irish team who struggled to cope with tactics.
GAANOW takes a look at the half-time #IRS2017 highlights ahead of this Saturday's Second-Test against @AFL in Perth! Watch it here! pic.twitter.com/d6uPthuvI2

— The GAA (@officialgaa) November 16, 2017
Kerry's Peter Crowley spoke to the GAA: "It was tough. No matter all the training we do, we're still playing Gaelic Football to a certain extent, just with the mark."
Crowley believes the team learned some valuable lessons from the first test which they can take into their second test.
"We veered away from our traditional game a small bit in so far as maybe fellas were anticipating every time they got the ball they were going to get nailed in five seconds and that wasn't really the reality."
"So, that's maybe something else we couldn't really recreate because we don't really have the same intensity as the Australians do when it comes to that. Again, that's something we'll learn for going into the second-test."
Ireland team manager Joe Kernan is far happier with his team's preparation in the run up to game two. #IRS2017 pic.twitter.com/UFmN3Q7olp

— The GAA (@officialgaa) November 17, 2017
Manager, Joe Kernan is calling on the Irish community in Perth to come out and support the team: "We have had time to digest aspects of last weeks first installment and have focused on areas we believe we can improve on."
"I'm calling on all Irish people in Perth to come out and support the boys and back their efforts […] We all know about the number of Irish people in Perth and the surrounding areas and I hope they all make it to the game on Saturday and make themselves heard."
With only a goal and a point separating the sides, we have no doubt the Irish team can push this one, and grab the win.
Feature Image: GAA