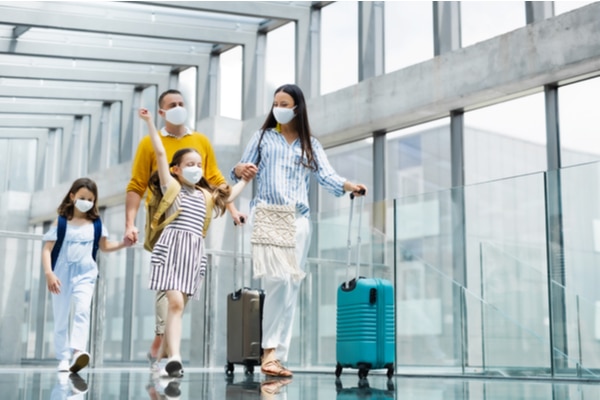 Some holidaymakers are still choosing to ignore advice on restrictions and continue with their holiday. This is despite Gardaí warning holidaymakers that if they continue with their travelling, they face prison and a criminal record. The Irish Times say Gardaí are waiting for several families to return from foreign holidays, before issuing court summons.
The original approach by Gardaí saw them issue fixed-charge notices, similar to speeding fines, to people breaching COVID guidelines and travelling to airports or ports for non-essential journeys. The fines began at €100 but were later increased to €500, but there are plans to raise it again to €2,000.
However, Gardaí say they encounter some Irish holidaymakers who are willing to treat it as part of the cost of going on a foreign holiday. In response, Gardaí have started formally directing people in breach of the travel regulation to comply with the law.
Gardaí now have the power to direct a person to comply with a penal provision under section 31(a) (7) Health Act 1947. Failure to comply is a further criminal offence which can be prosecuted in the district court.
Offenders will be punished with up to one month in prison and a €1,000 fine on conviction and will also have a criminal record afterwards. The current approach sees Irish holidaymakers fined, before being directed turn around.
Those who insist on continuing their journey will be warned they are committing further offence and could face another fine, a prison term and a criminal record. Gardaí say court summonses are being prepared for a number of Irish holidaymakers who insisted on continuing their journey after their initial warning and fine.
When quizzed on why Irish holidaymakers cannot be arrested at the departure gate, a senior Gardaí spokesperson said arrest is for the purposes of prosecution and that it is "not a form of punishment and will only be used in the most exceptional cases."
In response to queries, a Garda spokesperson said: "Where a person is determined to be in breach of the Penal Regulation 4(A)(1) they can be fined, currently €500 FPN, in respect of the travel to the airport without a reasonable excuse.
"Further, where a member of An Garda Síochána determines a person is in breach of this regulation, they may in accordance with section 31(a)(7) Health Act 1947 'direct a person to take such steps as the members consider necessary to comply with the provision'. Failure to comply with this direction is a further offence."
According to the Irish Times, Gardaí had issued almost 5,000 fines for non-essential travel, including 132 fines for non-essential travel to ports and airports, as of last Friday. Meanwhile, Tánaiste Leo Varadkar recently urged people to "forget about non-essential foreign travel" as some restrictions will be kept in place to at least June.