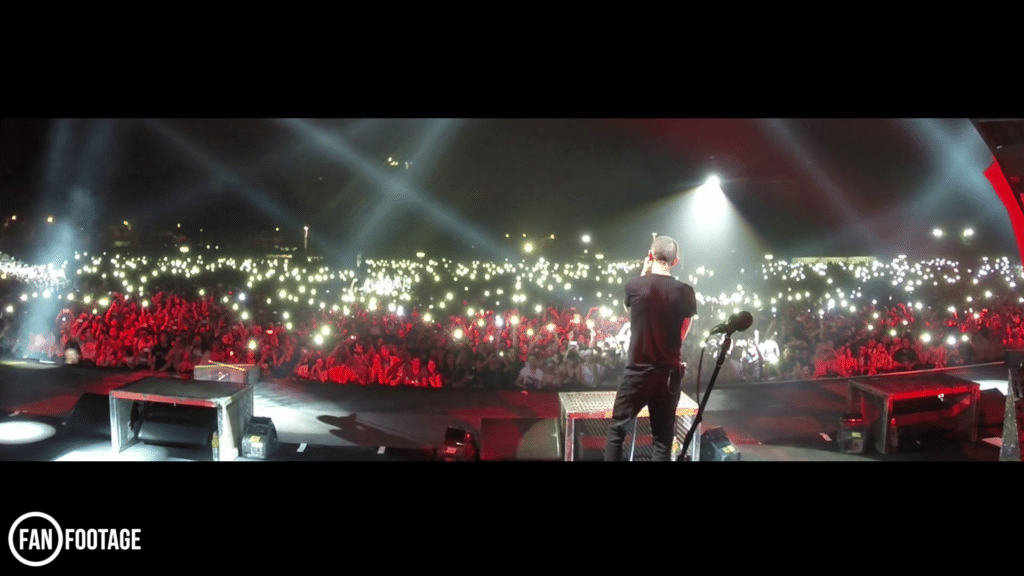 American rockers Linkin Park have teamed up with an Irish video technology company named FanFootage.
The band used footage shot by their fans at a Milan gig to create a video for their latest single 'Until It's Gone'.
1,500 Italian fans filmed the performance of the new track on their smartphones and then uploaded their crowd shot videos to FanFootage crowd-sourcing platform. Once the clips are upload they're automatically synced with a professional live recording of the band's performance.
The Irish start-up then creates a video of the concert from all different angels, using the best clips uploaded to their website. All of the footage shot and sent to FanFootage can be watched on their interactive video player.
The eventual edited video created by FanFootage was upload to Linkin Park's official YouTube channel. Check it out below.
FanFootage describes themselves as: "The world's largest video crew. They take fan-shot videos of a live performance and automatically sync them all up with professionally-recorded live audio. Fans can then watch back the show from all the different angles, share the videos with their friends, and they can produce broadcast-quality edited videos from all the uploaded footage."
The service is free to use and will allow users to go back and view a concert from the balcony, if you were in the standing ground floor area or if you missed your favourite song while dashing to the loo, you can just go back and view the song watching footage shot by another fan.
FanFootage chief executive and co-founder Cathal Furey discussed the collaboration with Linkin Park, he told the Irish Times: "We have achieved two things with this collaboration with Linkin Park. [We] set a new record for number of fan videos uploaded from a single live performance, and shown how fan filming can be harnessed positively by bands to create amazing video content together."
Linkin Park are a band that have always harnessed technology to be innovative and creative. The group have 4.2million followers on Twitter, 65 million likes on their Facebook page and were the first rock band to achieve more than one billion YouTube hits. They not only make music, they're involved in all aspects of creation, from directing and experimenting with visual techniques in their music videos to the artwork of their albums.
They interact with their fans differently to other bands, they have remix competitions for their songs, and they have partnered with Dell working on software that allows devotees of the group to take their music apart and fit it back together.
Kavi Halemane, Head of Digital for Linkin Park's Management Company said: "FanFootage is a special product in the crowd-sourced video space. The standalone video commemorating the Linkin Park project surpassed expectations, and it is incredibly engaging to relive a live performance through the lense of the fans in a way that allows users to choose their own perspectives in real-time with the interactive version. It creates endless possibilities for the viewer each time they take the journey, by putting the fan in the director's chair."
We can't wait to see what other projects FanFootage have up their sleeves.