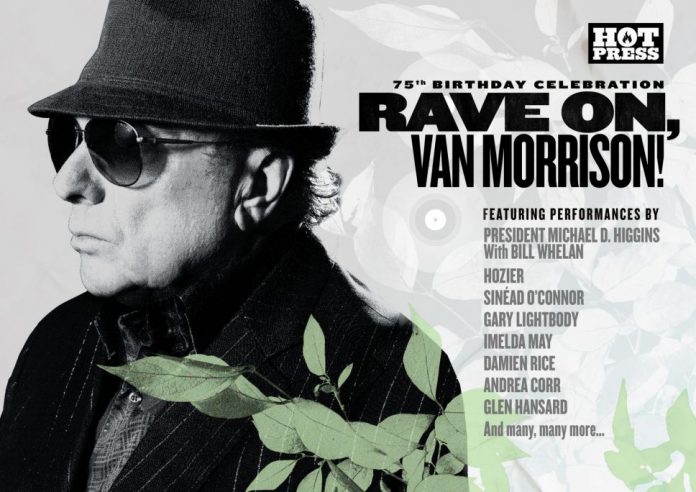 Van Morrison turns 75 this month and Hot Press have done a great thing to nod the man.
'Rave On, Van Morrison' kicked off last night and the Irish music bible will be releasing a video performance every evening for the next 2 weeks at 7pm from an artist paying tribute to Van. Last night Andrea Corr did Moondance!
Andrea says, "It was through my parents, Jean and Gerry, that I first connected with Van Morrison's music. They had a band called The Sound Affair that would perform his music. So, basically from infancy, I've been listening to Van. The fact that every song sounded like a classic made a big impact on me. The universality of his music makes him unique and very special. I feel a connection to him as an Irish artist – but I also think I would feel it even if he weren't Irish."
Over the course of 'Rave On, Van Morrison', you can expect appearances from some of the most iconic names in the country – including President Michael D. Higgins with Bill Whelan, Hozier, Sinéad O'Connor, Gary Lightbody of Snow Patrol, Imelda May, Glen Hansard and Damien Dempsey and more.
"Van Morrison is one of the outstanding songwriters and performers of the past 60 years and has been a powerful inspiration to successive generations of musicians and artists all over the island of Ireland, and abroad. It is a great privilege to be part of this extraordinary celebration of Van's work, on the occasion of his 75th birthday. Long may he continue. Rave on, Van Morrison," President Michael D. Higgins said.
See the line-up for the first two weeks of 'Rave On, Van Morrison' below:
WEEK #1
Wed Aug 05 Hudson Taylor Cyprus Avenue
Thu Aug 06 Una Healy Reminds Me of You
Fri Aug 07 Thanks Brother Have I Told You Lately That I Love You
Sat Aug 08 Tim Wheeler Jackie Wilson Said 
Sun Aug 09 David Keenan Slim Slow Slider
WEEK #2
Mon Aug 10 Gary Lightbody, Miriam Kaufman & Iain Archer Into The Mystic
Tue Aug 11 The Scratch Sweet Thing
Wed Aug 12 Bronagh Gallagher And The Healing Has Begun
Thu Aug 13 Imelda May Wild Night
Fri Aug 14 Maverick Sabre Beautiful Vision
Sat Aug 15 Wallis Bird Listen To The Lion
Hot Press is also publishing a Van Morrison Special Issue, to coincide with Rave On, Van Morrison. It will be a must-have for Van Morrison fans all over the world.