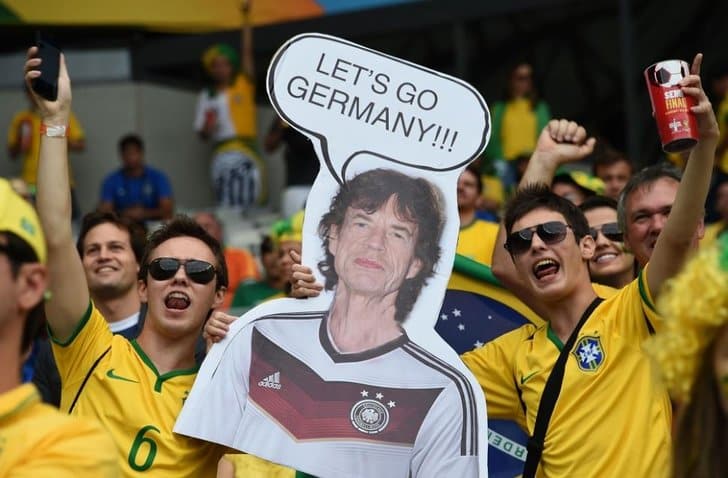 Have you seen Mick Jagger next to a large black cauldron bubbling over with foam?
The Stones frontman is being blamed for Brazil's exit from the World Cup.
Any of these rumours would help to explain the Brazilians blaming poor old Mick, for their recent humiliating loss to Germany in the World Cup. Jagger attended the semi-final match in Belo Horizonte, where Brazil lost 7-1 to Germany.
Jagger has been nicknamed 'pe frio', a Brazilin term for a person who brings bad luck with them. It seems every time Mick has thrown his support behind a country, that team goes on to lose. The singer has had a bad run in this World Cup; he told fans that Italy would eliminate Uruguay, then Italian promptly lost. He said that Portugal would win the tournament, they too went home prematurely. His last curse was reserved for his home country, England, they went onto lose their match with Uruguay.
It has also come to light that, this is not the first time the Brazilian public believe Jagger is to blame for their misfortunes. In the South African World Cup in 2010, Brazilians concluded the only reason their team failed to win against the Netherlands in the quarter finals was because Mick wore a Brazil shirt.
Maybe some Brazilians have been hearing football hexes listening to Their Satanic Majesties Request backwards, who knows, let's just hope The Rolling Stones aren't planning a tour in Brazil any time soon.