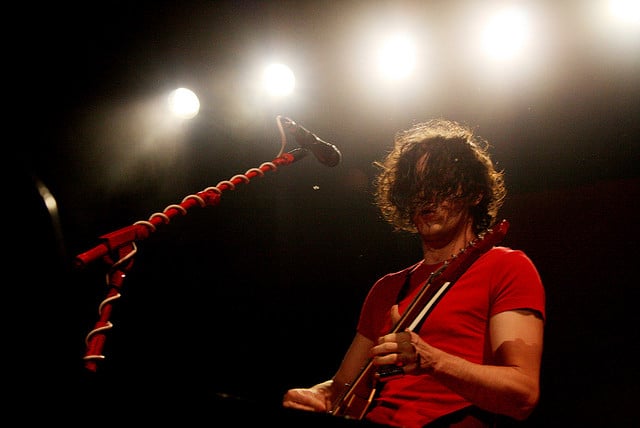 Jack White has written an open letter about his tour rider leaking online and blames the media for paying attention to the incident.
Earlier this month, the singer's pre-concert requests were posted by the University of Oklahoma school paper.
The booking agent, who represents White, Pharrell and Foo Fighters threatened to boycott the university after the stunt.
The rider included a very specific guacamole recipe, fresh juice, prosciutto, salami, a New York steak strip and insisted that "this is a no bananas tour".
We've all heard of worse riders than this, most notably Van Halen's request for no brown M&M's in their candy bowl. However, musicians often claim that they only add weird stuff to their lists to make sure that people are paying attention.
White wrote his open letter on the site Third Man Records, it reads: "first off, this is none of your business, but i have no specific demands in my dressing room. I know I could ask for lots of things but I actually don't ask for ANYTHING. I take with me what I need, and that ain't much. Anything on the rider is for the band and the crew. This "guacamole recipe" is my hilarious tour manager's inside joke with the local promoters, it's his recipe, not mine. It's just something to break up the boredom, seeing who can make it best. Though I wouldn't know because I've never had it. I can't even make Kool Aid let alone cook any real food enough to have a "recipe." Sorry, I don't have that talent."
"Bananas: did it occur to anyone someone on the tour might have an allergy to them? no? hmmm. one day some fantasy journalist out there will call someone in the biz and actually have a rider explained to them, maybe none of them have ever been on tour. oh well, let's move on, first amendment issues: i fully believe in the freedom of the press (though the supposed search for truth from the press requires microscopes and a some morton salt), and i also defend anyone's right to free speech (just look at my lack of respect for grammar in this letter and tell me i'm not for communicating freely) and i defend the right to free information in regards to public funds, but never in my 20 years of playing shows has my contract and tour rider been published in the paper that i recall.
"Do you know why we don't do that or want that? a hundred articles about bananas, free speech, and guacamole is why; it's because people don't understand what a rider is or what the terms of a contract are. they're out of their element, and you can't blame them for it. and people who write about that know this. people WANT a rider to be a list of demands that a diva insists occur lest he or she refuse to play a note of music.
White finished the post by saying: "I know it's a fun thing for people to try to turn me into a jerk and a diva, but in this case it's pretty ridiculous and has almost nothing to do with me," before asking "Can i go back to making music now?"
Read the full letter here at Third Man Records.