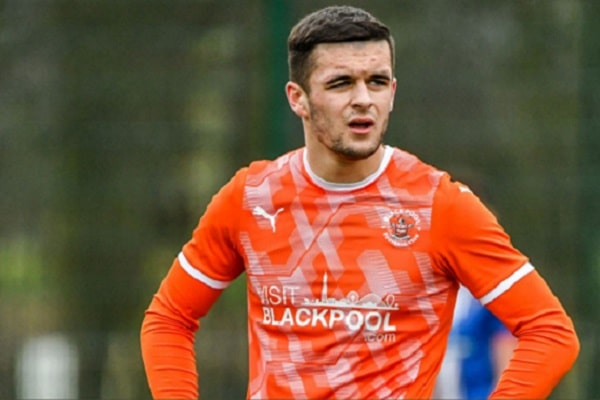 Yesterday, 17 year old Jake Daniels became the first footballer in over three decades to come out as gay.
The courageous youngster who plays for Blackpool, has become the first player to come out as gay since Justin Fashanu in 1990.
Daniels told his story to Sky Sports in an exclusive interview, saying that it was the "time is right to be myself, be free and be confident with it all".
He had also revealed that he had previously hidden his sexuality "because I wanted to be a professional footballer".
"The right time to do it"
"Now is the right time to do it", he told Sky Sports. "I feel like I am ready to tell people my story. I want people to know the real me.
He continued, "I have been thinking for a long time about how I want to do it, when I want to do it. I know now is the time. I am ready to be myself, be free and be confident with it all". 
Daniels also added, "For a long time I've thought I would have to hide my truth because I wanted to be, and now I am, a professional footballer. I asked myself if I should wait until I've retired to come out. No other player in the professional game here is out". 
The World Reacts
Following Daniels' revelation, many household names in the world of sport and beyond have reacted.
"I was incredibly proud just to see a 17-year-old be able to actually do an interview of that level of quality", Sky Sports pundit Gary Neville said.
He also added, "I would not have been able to do that in my mid-twenties or late-twenties. What he has just done took incredible courage. We have been in dressing rooms for many, many years and that would seem like the unthinkable to announce that you are gay. I can't imagine how difficult that has been". 
"It is a day of great importance for Jake and his family but also for English football.
He continued, "It will go down in history. It is a big, big moment for football players. It is of massive importance, this".
"I was on the PFA management committee probably 15 to 20 years ago now whereby this was a major talking point, a major issue at management committee meetings that we did not have a player comfortable enough to come out and say they were gay".
"How do we deal with this? How do we address this? The game has not dealt with this issue well at all. I think it is just about getting good with dealing with this issue from a fans' perspective". 
"Massive credit"
Other people who have heaped the praise on Jake Daniels, also include British Prime Minister Boris Johnson, England captain Harry Kane, and Man United keeper David De Gea.
Chelsea women's footballers Pernille Harder and Magdelena Eriksson also praised Daniels' bravery.
Check them out below.
Thank you for your bravery Jake, it would have taken huge courage to come out and you will be an inspiration to many both on and off the pitch. https://t.co/tCmSUBnj5R

— Boris Johnson (@BorisJohnson) May 16, 2022
Massive credit to you @Jake_Daniels11 and the way your friends, family, club, and captain have supported you. Football should be welcoming for everyone. https://t.co/x0MLZnBkjM

— Harry Kane (@HKane) May 16, 2022
Amazing courage and bravery Jake. https://t.co/1vh13e7nlu

— David de Gea (@D_DeGea) May 16, 2022
Coming out takes strength and bravery and doing so in the public arena isn't easy. The fact that Jake scored four goals after coming out to his family shows perfectly how liberating it is to be your true self. Congratulations @Jake_Daniels11. Feeling so happy for you today 🏳️‍🌈🏳️‍⚧️ https://t.co/KmCTgZIhOW

— Magdalena Eriksson (@MagdaEricsson) May 16, 2022
Jake, you are brave and brilliant. Coming out today will be freeing and liberating for you and for football fans around the world who will be inspired to open about their identity too. Huge respect. Wishing you all the very best! ❤️ https://t.co/hgNEup81M7

— Pernille Harder (@PernilleMHarder) May 16, 2022
Match of the Day presenter Gary Lineker also said that Daniels will be "massively accepted". 
Tánaiste Leo Varadkar also tweeted, "This is a big moment. First English professional footballer to say he's gay in 32 years & he's done it at the start of his career. He's tackling head on the risk of homophobic abuse from some 'fans' in the stands, on-line and on the streets".