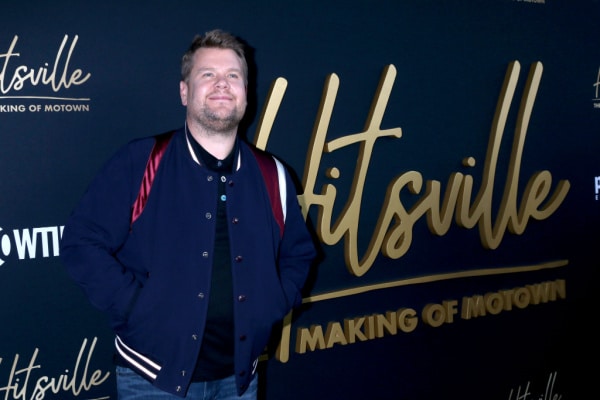 James Corden has described the incident at the Balthazar restaurant as "ungracious". He also insisted that it was "never my intention" to upset any member of staff.
Corden made these comments when addressing the incident during the latest episode of his Late Late Show.
The restaurant's owner Keith McNally had previously posted on social media that Corden had apologised to him, after he became "extremely nasty" to staff at the restaurant.
The row had occured after the TV host had found a hair in his main course, and a waiter had served fries, instead of a salad with an omellete to his wife Julia.
"Mr Corden's wife ordered an egg yolk omelette with gruyere cheese and salad. A few minutes after they received the food, James called their server, M.K. and told her there was a little bit of egg white mixed with the egg yolk", the post read.
Corden reportedly, "began yelling like crazy at the server: 'You can't do your job! You can't do your job! Maybe I should go into the kitchen and cook the omelette myself!'".
Having been initially barred from the eaterie, Corden had previously denied any wrongdoing, calling the whole incident "silly".
"I totally understand"
Since then, James Corden has used his latest episode of his US chat show to talk about an incident which he describes as "ungracious".
"Because I didn't shout or scream, I didn't get up out of my seat, I didn't call anyone names or use derogatory language, I've been walking around thinking that I haven't done anything wrong", Corden said.
"But the truth is I have made a rude, rude comment. And it was wrong. It was an unnecessary comment, it was ungracious to the server".
James Corden also revealed that he immediately contacted Mr McNally after he saw his post online.
"(I told him) how upset I was that anybody was hurt by anything that I had done and anything that I had said, and we had a good talk", the TV host explained.
"He appreciated the call", he added. "I was happy that we got to clear the air. And I felt like we dealt with it privately… but by this point, the story was out there, and more people were upset".
"I get it"
James Corden also admits that he understands the criticism he has received over his recent behaviour.
"I get it. I totally understand", he conceded. "Adding that he does "understand everybody getting upset and I accept everybody's opinion", Corden conceded.
"I also hate, as I said to the owner that day. That I've ever upset anybody ever", the Gavin and Stacey star insisted. "It was never my intention. It just wasn't. I love that restaurant. I love the staff there".
"I hope I'm allowed in again one day, so when I'm back in New York I can go there and apologise in person", he also added. "which is something I will absolutely do".