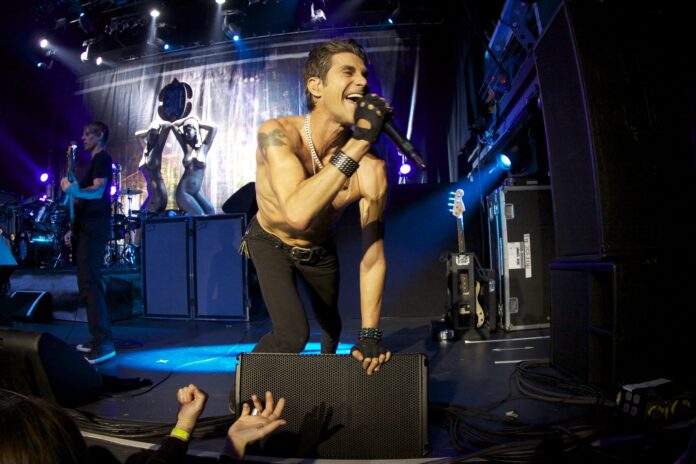 Jane's Addiction and Porno For Pyros frontman Perry Farrell has talked about his recent spinal surgery. The wild rocker had a discectomy, where surgeons remove damaged spinal discs and either allow the vertebrae to fuse or put in artifical discs.
In 61-year-old Farrell's case, he had crushed discs that needed to be completely replaced. Farrell told Classic Rock magazine that "They had to remove my voice box and put it on a table. That was daunting." We can imagine. The rock legend is most famous for his unique vocal sound. Well, his voice and his legendary partying.
Farrell alluded to his crazy times when talking about his surgery. "It was successful. I have crushed discs in my neck, mostly from partying and leaning back my head to rip out notes and surfing and dancing around… There's a long list".
With his many brushes with death, some might say that Farrell, the founder of the Lollapalooza Festival, is lucky to be alive. "I guess it's the luck of the draw. I've overdosed numerous times, been lost at sea… They just keep sending me back, I don't question it."
Born in New York and originally named Peretz Berstein, Farrell moved with his family to Florida in his teens. Musically, both in bands and as a solo artist, he's always operated on the fine line between punk and rock. Jane's Addiction's two seminal albums, Nothing's Shocking and Ritual de lo Habitual sound as fresh and raw as they did back at the end of the 80s. Farrell has always lived the wild life that goes along with that punk/rock lifestyle. Although drug-free now, Farrell doesn't denounce drug use. "I think narcotics, done properly, are one of the great benefits that God has given us – opium and cocaine."
He is reputed to have once downed a bottle of drain cleaner. No one knows what that was about but, legend that he is, he survived that too. Lollapalooza was started by the members of Jane's Addiction as a sort of farewell tour. The festival took off. Although went on hiatus for a few years, it was revived. And now it's as world-renowned as the band that spawned it.
Farrell has announced that he will be producing a 68-song box-set, a retrospective of the Jane's Addiction, Porno For Pyros and solo years. Let's hope it's dropping soon.