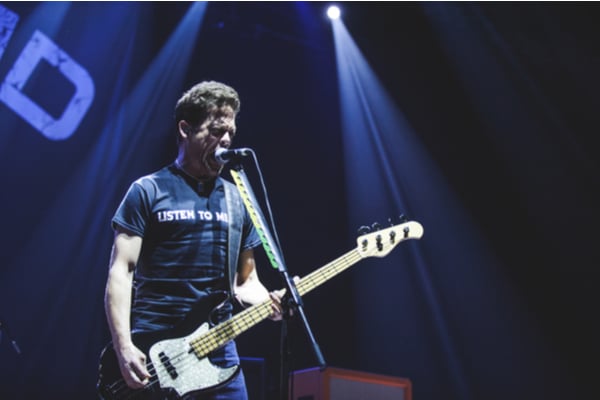 Jason Newsted has revealed that he was approached by Alex Van Halen to tour as part of an all star Van Halen band, featuring Joe Satriani on guitar.
This tour was said to pay tribute to the late Eddie Van Halen. He passed away in 2020 aged 65.
His son Wolfgang also spoke about a possible tribute tour back in November 2020.
He revealed that proceeds from any tour would go towards his father's charity Mr Holland's Opus. This is a charity which helps underpriveleged students accessing musical instruments.
"nobody that can top it"- Newsted on Van Halen Legacy
Speaking recently, Metallica's Jason Newsted has said that he initially agreed to tour with Alex Van Halen and Satriani.
However, he revealed that he eventually realised that it would be impossible to properly justify Eddie Van Halen's legacy.
"How could you?", Newsted told the Palm Beach Post.
"There's nobody that can top it, so how do you show it honor? I didn't want it to be viewed as a money grab. And then it kind of just all fizzled".
Last June, Wolfgang had previously said that it would be "great" to organise a tribute show for his father.
"It's not in the immediate plans, 'cause that's a lot of moving parts that you've gotta corral to get that to happen. But I definitely think it should happen. Absolutely", he said.
When asked about what musicians would take part in the show, Wolgang said, "I have no idea".
He also added, "All I know is that the focus should a hundred percent be on Pop. While it could be a celebration of the band's history, I think more than anything, it should be focused on him… It's a tall ask and a big thing to figure out. But I do think it should happen at some point".
Former Van Halen frontman Sam Hagar had said in February 2021 that he would love to work on an Eddie tribute show.
"I have nothing to do with the legacy", he said.
"That's their business — that's Wolfie, Alex Van Halen [Eddie's brother]; they're family members. Whoever wants to call me up and say, 'Here's the date,' I will be there. I don't care where I am. I'll cancel a [solo] show [if I need to]. [Laughs] [That's] something VAN HALEN would never do. I always make that joke — canceling a show was [out of the question with] VAN HALEN. I went out sick without being able to sing, Eddie went out with a crutch, Alex went out with a fucking neck brace — we wouldn't cancel shows. But I will cancel my show for a tribute to Eddie any day".
Elsewhere, Eddie Van Halen's ex wife spoke about her late husband's final words.