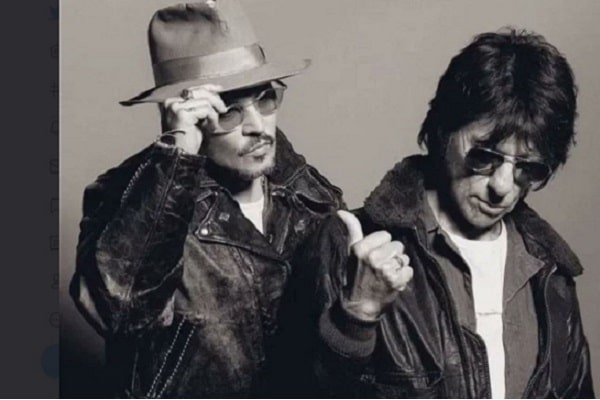 Johnny Depp and Jeff Beck have released a cover of The Beach Boys track 'Caroline No'.
This cover features on the pair's upcoming collarborative album '18', which arrives on July 15. The album also features a cover of Velvet Underground's 'Venus In Furs'. 
Their cover of the Beach Boys track, is an instrumental version of the song. It also features a music video, showing Beck appreciating a live audience. The video understandably did not include Depp.
Check this video out for yourselves below.
On working with Depp, Jeff Beck also had this to say.
"When Johnny and I started playing together, it really ignited our youthful spirit and creativity", Beck said of his partner. "We would joke about how we felt 18 again, so that just became the album title too". More on this here.
Depp and Beck Perform Together 
Along with releasing an album together, Johnny Depp has also joined Beck on stage for several of the rocker's UK gigs.
Depp played guitar, while Beck covered several tracks from artists such as Jimi Hendrix, Marvin Gaye and John Lennon.
One of their most recent gigs saw Depp joine Jeff Beck on stage at London's Royal Albert Hall.
Footage ascertained from the gigs also shows Beck telling the audience that they kept news of Depp's appearances at these gigs quiet, "for obvious reasons". 
Back in May, Depp also joined Jeff Beck on stage at Sheffield, with an unnamed source saying at the time, "It's been great for Johnny to get back to his first true love, which is music". 
"Jeff has been a great friend to Johnny during a very difficult time, and being away from Hollywood has been exactly what Johnny needed," added the source. "He wants to take a step back from everything and focus on a comeback through music. Johnny hopes to return to films eventually, but it's music first". 
Following his defamation case victory against his ex wife Amber Heard, Johnny Depp also thanked the jury for giving him his life back.