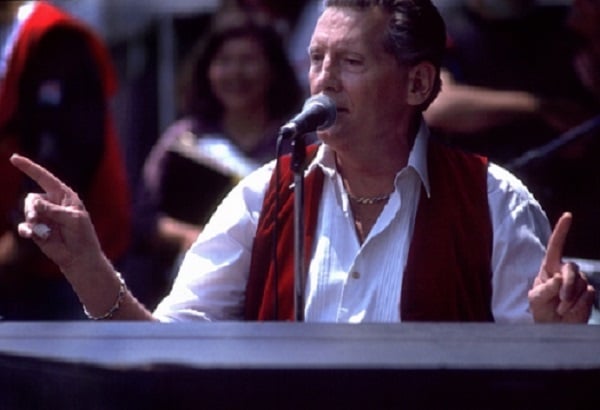 Jerry Lee Lewis turned 85 last month and will celebrate his birthday with a virtual live stream event. 'Whole Lotta Celebratin' Goin' On: 85 Years of The Killer' will take place on October 27th.
Hosted by actor John Stamos, the show will have appearances from high profile stars, with some of them to perform. Elton John, Willie Nelson, Bonnie Raitt, Lee Ann Womack, Tom Jones, and Joe Walsh all make the list. Former US President Bill Clinton will also make an appearance, among many more.
It will also see the "Great Balls of Fire" singer reunited with his cousins, country legend Mickey Gilley and televangelist Jimmy Swaggart. The three having not been in the same room for over forty years.
Other celebrities lined up to celebrate include Billy F Gibbons, Chris Janson, Linda Gail Lewis, Lindsay Ell, Marty Stuart, The Beach Boy's Mike Love, Priscilla Presley, along with appearances from Jerry Lee Lewis' road band, Kenny Lovelace, Ray Gann and Kenny Aronoff.
The celebration will air at 8 p.m. ET on Lewis' official Facebook and YouTube channels, and also on JerryLeeLewis.com. That is midnight for viewers in Ireland.
The event will benefit World Vision, a Christian organization working to help communities lift themselves out of poverty. An additional lineup announcement will follow in the coming weeks.
Lewis suffered a stroke in 2019 but managed to reteach himself to play the piano. The performer even recorded a new gospel album with producer T-Bone Burnett, which has yet to be released.
Lewis, known for rock 'n' roll songs such as 'Whole Lotta Shakin' Goin' On' and 'Great Balls of Fire', joins Don Everly of the Everly Brothers as the two living members of the Rock and Roll Hall of Fame's inaugural 1986 class.
Also in the pipeline is a career-spanning documentary of Lewis, currently being worked on by Burnett and screenwriter Callie Khouri (Thelma & Louise). Look out for that.