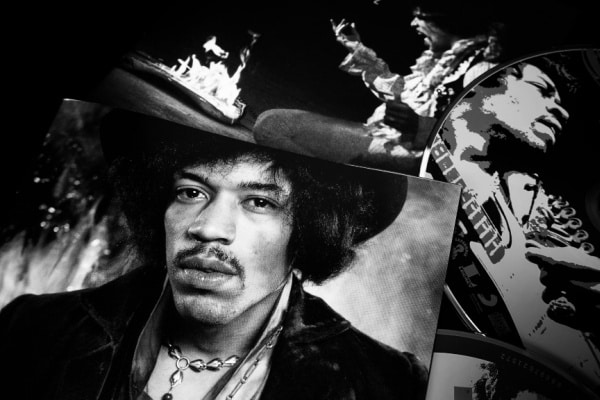 A brand new Jimi Hendrix live album is set to be released later this year.
The album will be released by Legacy Recordings and Experience Hendrix, and will arrive on November 18, marking the late singer's 80th birthday on November 27.
This live album had been recorded during the iconic Jimi Hendrix gig from Los Angeles in 1969. The shows had been performed in front of a sold out arena, featuring drummer Mitch Mitchell and bassist Noel Reddding, alongside Hendrix himself.
Available on 2LP vinyl, CD and all digital platforms, the album had also been remixed by longtime Hendrix producer/engineer Eddie Kramer. It was also recorded by Bill Halverson and Wall Reider.
Titled The Jimi Hendrix Experience Los Angeles Forum: April 26, 1969, the album also includes liner notes which were penned by LA Times staff writer/critic Randy Lewis and a preface from ZZ Top's Billy Gibbons who also attended the Forum show.
'I Don't Live Today' 
To mark this announcement regarding the album, an advance track called 'I Don't Live Today' has also been released. You can check this out for yourselves below.
Check out the tracklist in full below.
Intro
Tax Free
Foxey Lady
Red House
Spanish Castle Magic
Star Spangled Banner
Purple Haze
I Don't Live Today
Voodoo Child (Slight Return)
Sunshine of Your Love
Voodoo Child (Slight Return)
Speaking of Hendrix, Steely Dan and Doobie Brothers' Jeff 'Skunk' Baxter has revealed that brought Jimi his first ever guitar.
Baxter also revealed that Hendrix was operating under the name of Jimmy James at the time.
"This was at Jimmy's Music Shop", he said. "A gentleman came in with a beat-up Fender Duo-Sonic. He wanted to upgrade the instrument or get a nicer guitar".
He added, "I had already customized a Fender Stratocaster for a left-handed player who wanted to play righty; I made some changes to the vibrato arm and a few other small things. But the guy never showed up, so I just traded Jimmy James the Strat for the Duo-Sonic". 
"I got in trouble with Frank, one of my bosses," Baxter added. "He said, 'What the hell was that?' I said, 'Well, he seemed like a nice guy.' And for that, I was docked two weeks' pay. One day after that, Jimmy James came back to the store and invited me to come down to a club to see him play". More on this from Nova here.