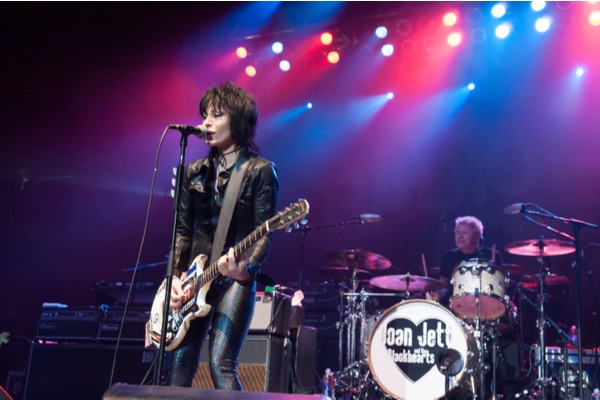 In a fresh interview, Joan Jett paid a special tribute to a "f***** wonderful guy" Taylor Hawkins.
Foo Fighters drummer, Taylor Hawkins passed away in March aged 50. Jett herself described this news as a tragedy.
Speaking to NME, Jett also described Hawkins as a "kick a** drummer", who would "light up a room". 
"just little things like that"
Joan Jett revealed that herself and her band The Blackhearts first met Foo Fighters "around 2010" where they "really hit it off".
A year later, Foo Fighters invited Jett's band to perform their 1980 track 'Bad Reputation' on The Late Show with David Letterman. A performance which you can check out for yourselves below.
"Just little things like that, they included me in", Joan Jett explained.
She continued, "It was very, sort of, familial. We're all sittin' backstage, runnin' through songs. I can see [Taylor] now on his drum pad, whacking away. He's a wonderful guy". 
"It's really a tragedy that so many people who love him, lose him", Jett said of Hawkins death. "But, you know, it's not just physical. He's around. And that's hard for people to hear because they want the physical".  
Tributes Roll In For Hawkins
Along with Joan Jett, Pearl Jam have also paid a very unique tribute to Taylor Hawkins.
During their opening night of their Gigagton Tour, frontman Eddie Vedder mentioned drummer Matt Cameron's friendship with Foos drummer Hawkins.
"[Hawkins] emitted something very incredible and very special", Vedder told the audience.
"We're all missing him, and so, Matt, I'm sorry again for your loss", he added. "But it just gives us another chance to say how much we appreciate you as well". 
Red Hot Chili Peppers are another act who have recently paid tribute to Hawkins. Their drummer Chad Smith also urged the audience at a recent concert to chant "We Love Taylor!". 
Elsewhere, Joan Jett and the Blackhearts confirmed the release of their acoustic album 'Change Up'. More on this here.