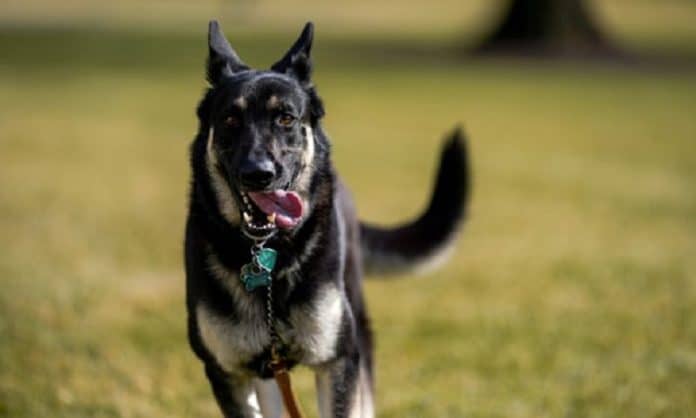 US President Joe Biden's dog, Major, has been involved in a second biting incident this month according to staff at the White House.
Dr. Jill Biden's press secretary, Michael LaRosa, said that the dog "nipped someone while on a walk" and added that Major "is still adjusting to his new surroundings" and the individual who was bitten returned to work shortly after the incident without any injury.
The German Shepherd only returned to the White House last week, along with his older sibling, Champ, after being involved in another biting incident earlier this month.
Press secretary, Jen Psaki confirmed that Major had bitten a secret service member as the dog was still getting familiar with his new surroundings and reports from CNN indicate that Major has barked, jumped, and charged at staff at the Oval Office.
After the incident, President Joe Biden said Major was a "sweet dog" and that the animal "turned a corner, there's two people he doesn't know at all, you know, and they move … to protect."
Many Americans are pleased that pets have returned to the White House after the previous family had no pets during their stay.
Major is the first dog at the White House to be adopted from a shelter. After the first biting incident, Psaki was asked by reporters if the dog would be euthanized and indicated that he would not be euthanized as "Major is a part of the Biden family".
After the first biting incident, both dogs were sent to Delaware while the First Lady visited army bases on the west coast of the US.
Since President Joe Biden took office, America has accelerated its vaccine rollout and is continuing to hit ambitious vaccine targets. You can read Radio Nova's report on it here.
Meanwhile, former president, Donald Trump has launched his own website to showcase his term as president, you can check out our report on it here.
Photo Credit: White House/Reuters.