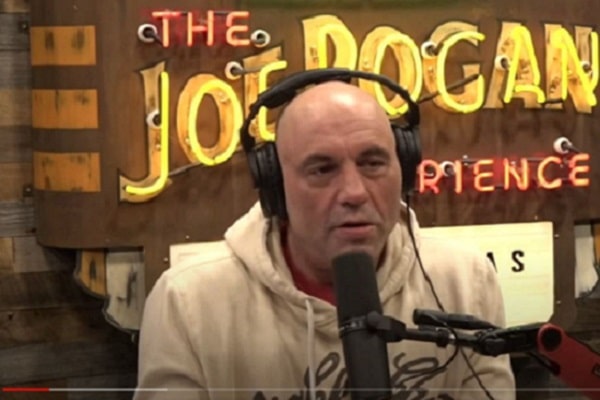 Speaking on his Spotify funded The Joe Rogan Experience podcast, Joe Rogan has spoken about the recent uproar regarding the Spotify Covid saga.
This saga began back in January, when country singer Neil Young asked for his music to be removed from the streaming service.
Young said that there has been "misinformation" spread on Covid from Joe Rogan's podcast. This podcast is also funded by Spotify. More on this here.
Other artists like Joni Mitchell and Crosby, Stills and Nash also asked for their material to be removed from Spotify, in support of Young. See here.
Their CEO Daniel Ek had confirmed that content advisories would also be added to podcast episodes.
Joe Rogan had previously taken to Instagram to explore "some of the controversy that's been going on over the past few days". 
"I don't always get it right", he added. "I will do my best to try to balance out these more controversial viewpoints with other people perspectives so we can maybe find a better point of view". 
On a recent stand up show, Joe Rogan defended his stance on Covid vaccines. He claimed that it is not his fault if people are basing their vaccine views on his tuppence worth.
"If you're taking vaccine advice from me, is that really my fault?", he asked.
"What dumb s**t were you about to do when my stupid idea sounded better?", he wonders.  'You know that dude who made people eat animal dicks on TV? How does he feel about medicine?' If you want my advice, don't take my advice".
Rogan Addresses Issues In Podcast
Along with this Covid flack, Spotify have also removed 70 episodes of the Joe Rogan Experience, after songwriter Indie.Arie shared a compilation video of Rogan using the N-Word on his show.
Rogan subsequently apologised, calling this "the most regretful and shameful thing that I've ever had to talk about publicly".
He did add that the video was "taken out of context of twelve years of conversations on my podcast".
Rogan also told his fans there has "been a lot of s**t from the old episodes of the podcast that I wish I hadn't said".
"hitjob"
Speaking in his latest episode of The Joe Rogan Experience, the host spoke about the recent flack he has received over racial slurs, calling it a "political hitjob".
He claimed that detractors were "taking all the stuff I've ever said that's wrong and smushing it all together". He also added that this forced him to "address some stuff that I really wish wasn't out there".
Rogan addressed this issue the following evening (February 8) at that aforementioned stand up show in Texas.
On the N word compilation video, Rogan called the clips "racist as f**k".
"Even to me! I'm me and I'm watching it saying, 'Stop saying it!', Rogan told the audience. "I put my cursor over the video and I'm like, 'Four more minutes?!'". 
"I haven't used that word in years", the comedian added. "But it's kind of weird people will get really mad if you use that word and tweet about it on a phone that's made by slaves".