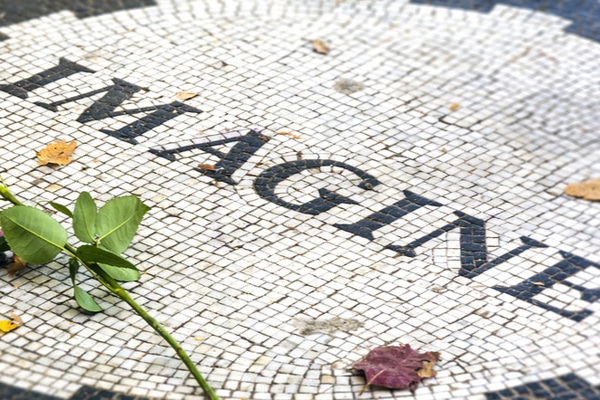 During a benefit gig for Ukranian refugees, Julian Lennon, the son of Beatles legend John performed his father's 1971 hit 'Imagine'. You can check it out below.
In doing so, Julian broke his own vow that that he would never perform his father's most iconic solo hit.
However, I think you will agree, under the circumstances, it was worth it!
The video clip shows Julian performing the track, while surrounded by candles and accompanied by acoustic guitarist Nuno Bettencourt.
Lennon performed this track as part of the Stand Up For Ukraine campaign, a global fund-raising effort broadcast from Warsaw, Poland.
This performance was also part of a European Union pledge drive from Global Citizens. This drive ultimately raised $10.1 billion in public, private, and corporate cash earmarked for refugee assistance.
"the song reflects the light at the end of the tunnel"
Writing via YouTube, Julian Lennon said that this song "reflects the light at the end of this tunnel" regarding Russia's ongoing invasion of Ukraine.
"I had always said, that the only time I would ever consider singing 'Imagine' would be if it was the 'End of the World'", he said.
But "the War on Ukraine is an unimaginable tragedy," he continued. "As a human, and as an artist, I felt compelled to respond in the most significant way I could".
'Hey, Hey Rise Up'
This Julian Lennon cover comes as Pink Floyd shared their own supportive message for Ukraine, by sharing their single, 'Hey Hey Rise Up', their first new music in decades.
The track also includes a contribution from Ukranian singer Andriy Khlyvnyuk who is the lead singer of BOOMBOX.
"I hope it will receive wide support and publicity", Pink Floyd's David Gilmour said of the single.
"We want to raise funds for humanitarian charities, and raise morale. We want express our support for Ukraine and in that way, show that most of the world thinks that it is totally wrong for a superpower to invade the independent democratic country that Ukraine has become".
"Like so many, we have been feeling the fury and the frustration of this vile act of an independent, peaceful democratic country being invaded and having its people murdered by one of the world's major powers".
Check out the track and Nova's report on this story here.