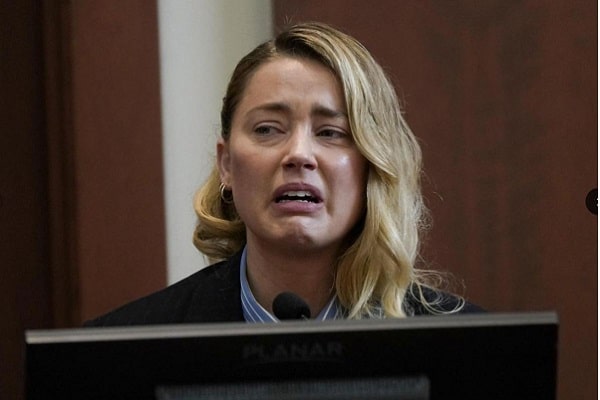 Giving evidence through choked back tears at court, Amber Heard claimed that her ex husband Johnny Depp violently attacked her during their marriage.
Heard told the court of how the pair's "magical" relationship turned sour, claiming that Depp slapped her once when she mocked the writing of one of his tattoos.
Depp is suing Ms Heard over an article which appeared in the Washington Post in 2018.
This piece alleges that he sexually and violently abused her throughout their marriage. The couple divorced in 2017, having tied the knot in 2015.
At the beginning of this testimony, the Aquaman actress had called reliving her relationship with Depp "the most painful and difficult thing I've ever gone through". 
She also called the relationship "a beautiful and strange time", adding that she had initially "fallen head over heels in love" with Depp.
Amber Heard "didn't know what was going on" 
However, this utopian time quickly became a dystopian nightmare according to Ms Heard when, Johnny Depp first slapped her after she mocked the writing of one of the actor's tattoos.
This alleged incident happened after Ms Heard asked Depp what was written on the tattoo. When Mr Depp replied "wino", she laughed, thinking it was a joke. It was at this point where he allegedly slapped her.
"He slapped me across the face", a tear stricken Heard told the court. "I didn't know what was going on. I just stared at him". 
Heard alleged further that Depp slapped her twice more, shouting "you think it's funny, b****?". 
Amber Heard also told the court that she agreed to stay with Depp after he apologised and promised he would never strike her again. He supposedly told Ms Heard that he had "put the monster away" and that he would "rather cut my hand off than lay it on you".
"I didn't want to leave him. I didn't want this to be the reality", she said.
The actress also claimed that Depp was particularly violent when he had been drinking alcohol or taking drugs. She claimed that he would be verbally abusive towards her and also accused her of being unfaithful.
She added that "it would escalate to the point where he would push me or shove me down". 
"This happened several times", Heard insisted.
Johnny Depp has always denied striking his ex wife, claiming that he was the real victim of domestic violence. 
Earlier this week, Amber Heard also fired her PR team due to the "bad headlines" she has received since this trial began.