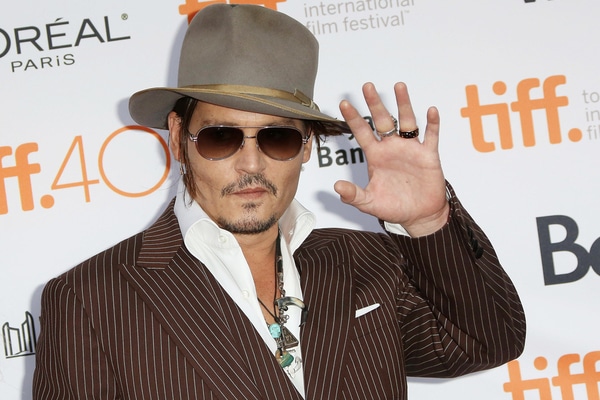 Hollywood star Johnny Depp is reportedly collaborating on a new album by legendary British guitarist Jeff Beck.
Depp has been a guest at Beck's estate in the Sussex countryside, and it seems the two have been jamming together.
"They've been collaborating on material for Jeff's next album," an unnamed source told The Daily Mail. "It's been great for Johnny to get back to his first true love, which is music."
"Jeff has been a great friend to Johnny during a very difficult time, and being away from Hollywood has been exactly what Johnny needed," added the source. "He wants to take a step back from everything and focus on a comeback through music. Johnny hopes to return to films eventually, but it's music first."
The actor and the guitar-slinger have teamed up in the past. In 2019 they performed a tour of the US together, including playing at the Crossroads Music Festival in Dallas, Texas to raise money for Eric Clapton's charity. Last year the duo released a cover of John Lennon's Isolation to raise awareness of mental health issues during the pandemic enforced lockdown.
Depp has long been a music enthusiast. He began playing guitar before taking up acting. Depp has featured on tracks by Oasis, Shane MacGowan, Iggy Pop, Vanessa Paradis, Aerosmith, Marilyn Manson, and The New Basement Tapes. The actor has played guitar on the soundtracks of his films Chocolat and Once Upon a Time in Mexico. In the 1990s he was a member of the band P alongside Butthole Surfers singer Gibby Haynes, Red Hot Chili Peppers bassist Flea and Sex Pistols guitarist Steve Jones. In 2015 Depp formed the group Hollywood Vampires with Alice Cooper, Aerosmith's Joe Perry and his childhood friend Bruce Witkin.
Depp has been forced to take step back from acting following allegations of domestic abuse during his marriage to actress Amber Heard. Last year he lost his libel case against The Sun newspaper, who referred to Depp in an article as a "wife-beater." Following the case he was asked by Warner Bros. to step away from his role in the Harry Potter spinoff Fantastic Beasts series.
Jeff Beck is regarded as one of rock music's greatest ever guitarists. In 1965 he joined The Yardbirds, replacing Eric Clapton. His explosive temper led to him being fired from the group soon after. He quickly scored a solo hit with his 1967 song Hi Ho Silver Lining, on which he also sang. Beck then formed The Jeff Beck Group with Rod Stewart on vocals. Rolling Stone magazine has called him "one of the most influential lead guitarists in rock."