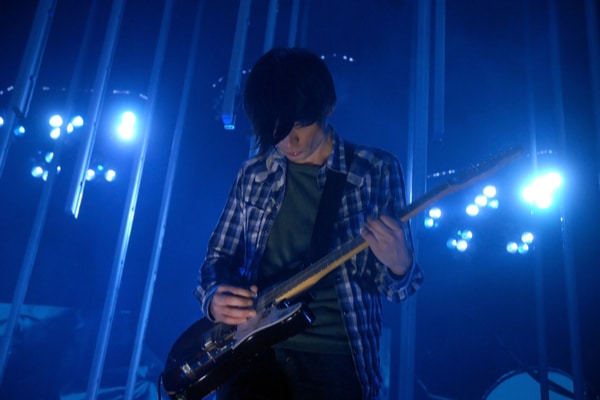 Jonny Greenwood has confirmed he is releasing a soundtrack album of his music for the new Princess Diana biopic "Spencer".
This will mark Greenwood's ninth soundtrack, following four films with American director Paul Thomas Anderson. These films include Inherent Vice and There Will Be Blood.
The Radiohead guitarist also wrote soundtracks for You Were Never Really Here for director Lynne Ramsey. 2003's Bodysong also saw Greenwood's first film score.
He also earned an Oscar nomination in 2018 for Best Original Score.
A release date for this latest soundtrack will be announced once they have confirmed a release date for the film in the UK.
Spencer premieres at the Venice Film Festival tonight (Sept 3), before being shown in the US on November 5. The film will see Kristen Stewart star as Princess Diana.
Check out the trailer below.
"very affecting"
Speaking to NME about how he got asked to write the soundtrack, Radiohead's Greenwood had this to say.
"I had an email from the director, Pablo Larrain. I didn't know his work, so he sent me his film The Club, which I found very affecting", he said.
He also added, "I enjoyed corresponding with Pablo, firing each other up with enthusiasm about what the music could be. He's a very energetic, positive person".
"I explained to Pablo that there's lots of baggage attached to classical music in films about the royals. You either use actual Handel or pastiche Handel", he continued.
"I watched a few royal films, which were full of sweeping shots of Buckingham Palace, with fanfare horns and tinkling harpsichords on top. I wanted instead to emphasise how chaotic and colourful Princess Diana was, in amongst all that baroque tradition. It's what the film does too".
"I suggested we get a baroque orchestra in, so I wrote music in that regular royal style, with kettle drums, trumpets, harpsichords and pipe organs", he added.
"Then, while they were playing, we substituted the orchestra with free jazz players. They could play those instruments, but we had it mutate into a free jazz performance. That was so exciting, the jazz players were just amazing. The trumpet player, Byron Wallen, blew my mind".
Jonny Greenwood also remarked that the film made him sympathise towards Princess Diana.
"It makes you appreciate how claustrophobic her life must have been. It's set over three days in Christmas 1991. Family Christmases are a nightmare anyway", he stated. "To have that, and then be presented with eight dresses, the order you have to wear them in, be told where you have to be and what you have to say? It doesn't look fun". 
Jonny Greenwood on "The Smile"
Over lockdown, Jonny Greenwood has also worked with a new band known as "The Smile". He said that he has been working on a new album with them.
"Lots of it is just about finished", Greenwood revealed.
"We're sitting in front of a pile of music, working out what will make the record. We're thinking of how much to include, whether it's really finished or if there are a few guitars that need fixing. I'd hope it'll come out soon, but I'm the wrong person to ask".