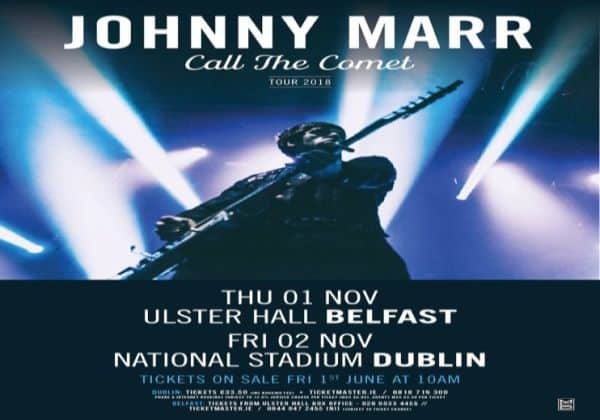 'Marr hasn't sounded this alive in years.' 4* – Classic Pop
Johnny Marr has announced a major tour in support of his new album Call the Comet including a date at Dublin's National Stadium on Friday 2nd November 2018. Tickets go on sale this Friday 1st of June at 9am from Ticketmaster. Call the Comet is to be released on June 15th pre-order info as well as the video for 'Hi Hello' is available below…
Marr's tour kicks off in Nashville in September and concludes with a homecoming show at Manchester's O2 Apollo. The legendary Smith's guitarist is currently completing a tour of intimate venues. That included a totally sold out Button Factory show in Dublin.The Time's review of the Dublin show concluded that 'the former Smiths guitarist was at his blistering best in his first solo show for more than two years'.
Recorded with his band at Marr's Crazy Face Studios in Manchester, 'Call The Comet' is his third solo record and follows the critically acclaimed Top 10 albums The Messenger (2013) and Playland' (2014). Uncut hailed the new record as 'Possibly the most atmospheric, widescreen guitar album you'll hear all year.' and gave it 8/10.
"Call The Comet' is my own magic realism,' says Marr. 'It's set in the not-too-distant future and is mostly concerned with the idea of an alternative society. The characters in the songs are searching for a new idealism, although there are some personal songs in there too. It's something that people like me can relate to.'
Already previewed by the singles 'The Tracers' and 'Hi Hello', other highlights include 'Actor Attractor', 'Walk Into The Sea', 'Bug' and 'Spiral Cities', the latter of which is already established as a favourite in Marr's live shows.
'Call The Comet' is available to pre-order from here, with 'The Tracers' and 'Hi Hello' provided as an instant download. The album will be released on digital, CD and vinyl formats along with some special D2C bundle packages.