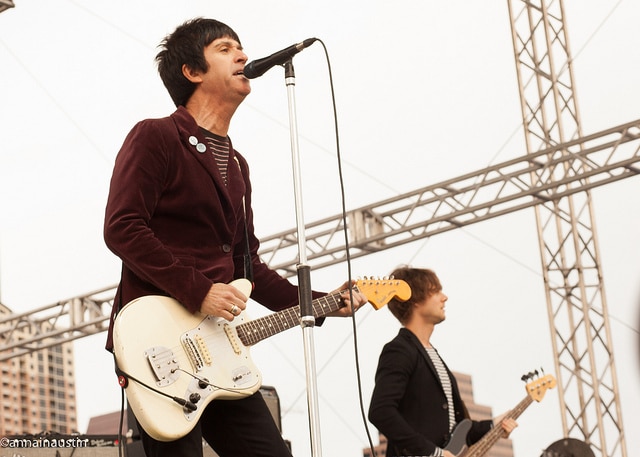 The former Smiths guitarist Johnny Marr releases his second solo album Playland in October, and has been speaking about the decline of political songwriting.
Marr feels that artists aren't taking a stand against the government and states "it's always been the job of the artist to flag these things up."
In an interview with The Guardian Marr said it was musicians duty to "stand in opposition to oppressive forces, even just to ask questions."
Marr is convinced artists don't want to jeopardize their careers by taking a stand and feels that fear is a big part of the decline of songwriting.
"I think a lot of it's down to careerism. But I also think a lot of people are afraid. And I think they've got good reason to be. I think there's a feeling of some kind of retribution. It's getting more and more difficult to bring your show into other countries. And it's getting really difficult for people to bring what they do here: visas, borders, immigration."
He added, "We're so lucky to be able to live in a democracy, and I'm not sure how long that's going to last. I think the digital age is going to make things more confusing. I think it's going to take control out of the hands of people who live ordinary lives. That's happening very, very fast. Propaganda, misinformation – everything is going to be about people who've got vast amounts of money."
All is not lost though, "The great thing is that I spend a lot of time with people who go to college, and the majority of them are super-switched on… As always, it's down to the young. I'm never without hope."
Marr's new album Playland is released on October 3rd. Watch the video for his single 'Easy Money' here.
Playland track list:
Back In The Box
Easy Money
Dynamo
Candidate
25 Hours
The Trap
Playland
Speak Out Reach Out
Boys Get Straight
This Tension
Little King