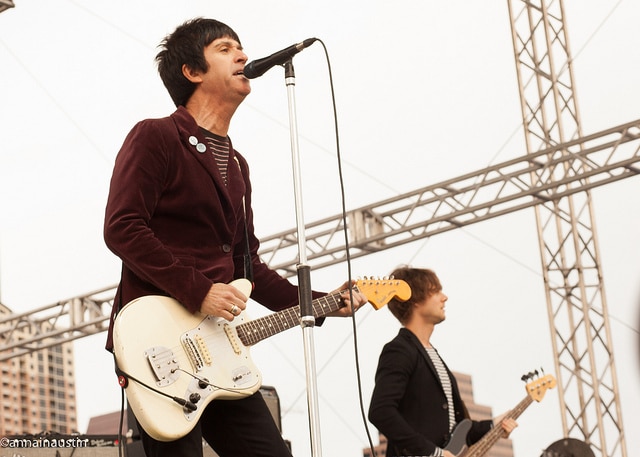 Former Smiths guitarist Johnny Marr has been speaking about the new Noel Gallagher album, saying that the upcoming record is "very melodic" and "pretty rocking".
The new album titled Chasing Yesterday, will be released next year in March.
Marr features on the record's last song 'Ballad Of The Mighty I', which will apparently be the second single off the LP. Speaking to NME, Marr discussed his experiences with Noel in the studio.
Marr said, "He contacted me and said he had a song that he'd be happy for me to play on. I accepted, gladly, and it was was really good to spend a day playing guitar in a little studio near Chelsea Bridge. When that was done I listened to about eight songs on the album."
The singer detailed what Chasing Yesterday sounds like. "It's really good. What I heard of it was very melodic, some of it pretty rocking too, and fans are going to really like it. He doesn't do things he doesn't think are great. And his singing is really good on the album."
What does Marr think about the dreaded second album syndrome? "In some ways it might be more of a challenge than the first, because he's building on a successful solo career, essentially on his own. But he's smart and everyone knows he knows what he's doing."
Watch Noel Gallagher's new video 'In The Heat Of The Moment' here.
As for the former Oasis member, he had nothing but praise for Johnny. Gallagher said, "He's a very enthusiastic artist and I tried to get him to play on 'What A Life'. He's a truly great guitarist and he has something that nobody else has. He's amazing, a top man."
Noel Gallagher plays Dublin's 3Arena on March 4th 2015.