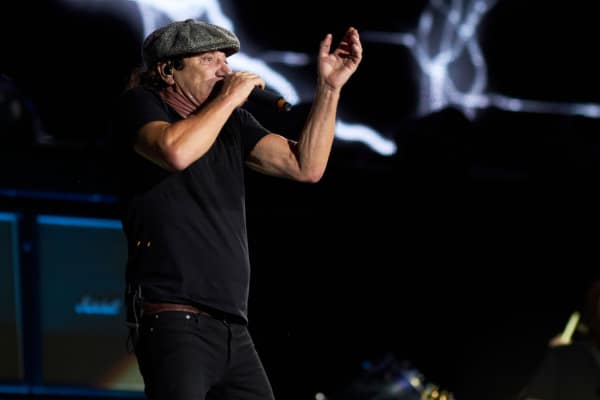 AC/DC lead singer Brian Johnson has revealed that new technology has helped him to overcome his hearing problems, which forced him to step away from the band's touring schedule for 2016.
Speaking to broadcaster Matt Everitt, Johnson talked about the hearing loss suffered that year, which saw him miss AC/DC's Spring and Summer North American Tour.
"You get into your motorcar and you can't tell who's singing the song; you can't tell the song", he said.
"It's just this noise. It's horrible", the frontman continued.
"It's just a 'musicy' noise, but you don't know what key it's in; you can't hear who's singing it; you can't tell if it's Paul McCartney or Mick Jagger. It's a horrible gray area. I think I called it a murderous silence, and it certainly is. But I did it the way I always do it… I got the best whisky I could have… I tried to forget all about it and didn't answer the phone. I wouldn't talk to any kind of press, 'cause they were like vultures coming in. I just kept myself to myself".
"them ears working?"
To counteract his hearing issues, Brian Johnson began to work with audio expert Steve Ambrose, who thought he could help the singer.
According to Johnson, Ambrose has worked with several stars including K.D Lang and Huey Lewis.
"Stephen Ambrose, who did [the in-ear monitors], he put them in and was trying them, developing them", Johnson explained.
"And I could see there was light at the end of the tunnel. But it was a long way off. And then the great thing was Angus [Young, AC/DC guitarist] phoned up and he just said, 'Hey, them in-ears working?' I said, 'Brilliant.' He said, 'You wanna do an album?' I went, 'I'll be there yesterday", he also added.
"hear 360"
Brian Johnson subsequently explained how this technology worked.
"It's easy. It's a tiny small little — a little sack. You put it in your ear. You don't have to get it fitted. You put it in your ear, and there's a little thing on the end, a little tube, and it's a pump", he revealed.
"And you press it, and it inflates, and it becomes an eardrum. And it uses the bones and the bones in the chin… But also, it can be fitted to Bluetooth, and you can hear. And you can hear 360 — globally, as they call it — and there's no hissing. These regular hearing aids, they're always hissing and sissing".
Earlier this month, Brian Johnson also shed light on his non political stance, and why he refuses to voted in American elections. More on this here.