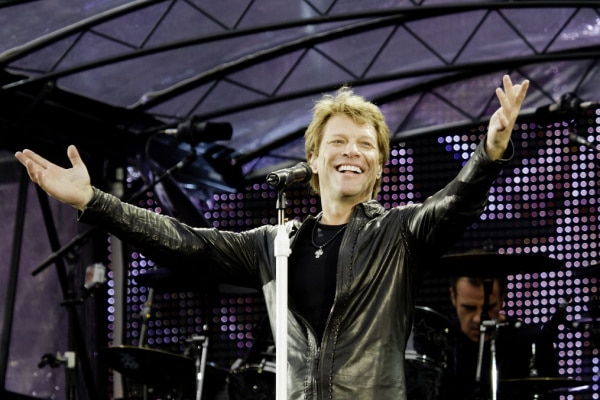 Would you like to listen to the article instead of reading it?
Jon Bon Jovi has recently received severe flack for rewriting Fairytale of New York with a brand new verse. The singer released his cover of the classic Pogues track for a new Christmas EP.
Bon Jovi left out the words "s***bag", and "f*****t". He also rewrote the verse before, and after.
In Bon Jovi's version, he sings both Shane MacGowan, and Kirsty McColl's parts. It sounds like this, "You're a bum, you're a braggart, you've lost all your swagger. The word around town is you ain't much in bed, called a squirrel cos you're nuts, you're a kick in the guts".
"Tampering with the lyrics"
Ballad singer, George Murphy said, "No one should be tampering with the lyrics of Shane MacGowan".
"Inserting new lines like this is just not being truthful to the song, and if you can't be truthful to the song, for god sake stay away from it".
It is not the first time, that the song's lyrics have come under the microscope.
The lyrics themselves:
Last month, the BBC announced that they were to air a censored version of the Pogues' Fairytale of New York.
Recently, Austrailian singer Nick Cave described this decision taken by the BBC as destroying, "the greatest song ever written".
Cave claimed it, "destroys the song by deflating it right at its essential and most reckless moment, meaning it can no longer be called a great song".
He added, "Fairytale of New York stands shoulder to shoulder with any great song, from any time, not just for its sheer audacity, or its deep empathy but for its astonishing technical brilliance".
Defence of the lyrics:
Over the years, the song has sparked major debate. Rugby referee, and LGBT activist Nigel Owens had his say on the subject famously in 2018, via Twitter, urging people not to "bloody listen to it" if they are easily offended by it.
Singer Shane MacGowan also defended the song's lyrics.
One thing is for sure, this song's lyrics will continue to spark debate for years to come, whatever your views on it are.