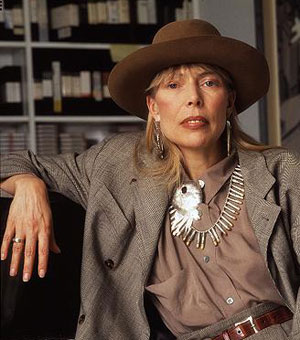 According to Mitchell's lawyer, the singer-songwriter may be allowed to leave hospital in a few days.
During a hearing that took place on May 4th, lawyer Alan Watenmaker told an L.A judge that Mitchell could be leaving the hospital soon.
Joni Mitchell was hospitalised at the end of March after she was found unconscious in her home. Recently representatives for the singer had to deny reports that Mitchell was in a coma and unresponsive stating that "Joni is not in a coma. Joni is still in the hospital – but she comprehends, she's alert and she has her full senses."
At the same hearing a judge agreed to give Leslie Morris, long-time friend of Mitchell, emergency powers to make decisions about Mitchell's health care but not her finances. The Canadian singer allegedly has no relatives who could take over this role and therefore Morris, who has been Mitchell's friend of more than 40 years, petitioned to become her conservator.
According to the statement posted on her website, Mitchell is expected to make a "full recovery". Fans who would like to wish the singer well can do so at www.WeLoveYouJoni.com.