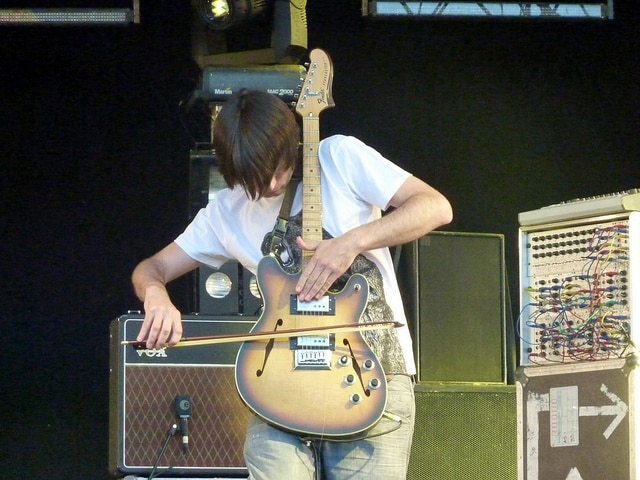 Before heading back to the studio in September to record new material with Radiohead, guitarist Jonny Greenwood has previewed his new single.
Greenwood's new track is called 'Skip Loop', he performed it with the London Contemporary Orchestra. The Radiohead guitarist previously debuted the song 'Loop' earlier this year.
Greenwood has been working with film director Paul Thomas Anderson (There Will Be Blood, Boogie Nights), scoring the director's new film 'Inherent Vice'. The Radiohead guitarist previously worked on Anderson's film 'The Master', starring Philip Seymour Hoffman and Joaquin Phoenix, the soundtrack featured 11 original compositons by Greenwood. He also wrote the chilling score for Anderson's 2007 release, 'There Will Be Blood'.
The performance of 'Skip Loop,' was captured by fans and posted on YouTube. The track is a very atmospheric solemn piece, filled with Greenwood's trademark haunting guitar sound that has been prominent on so many Radiohead songs.
Greenwood wrote an article in the Guardian were he talked about playing with an orchestra. "It's led me to think differently about live music," he said. "When an orchestra starts from silence in a quiet room it's glorious. It doesn't matter how much you spend on your speaker stands, you can't reproduce that in your front room."
Greenwood will be coming to The National Concert Hall in Dublin on October 2nd. He will be accompanied by the Australian Chamber Orchestra. Tickets and more details are available at NCH's website.
Listen to 'Skip Loop' below.