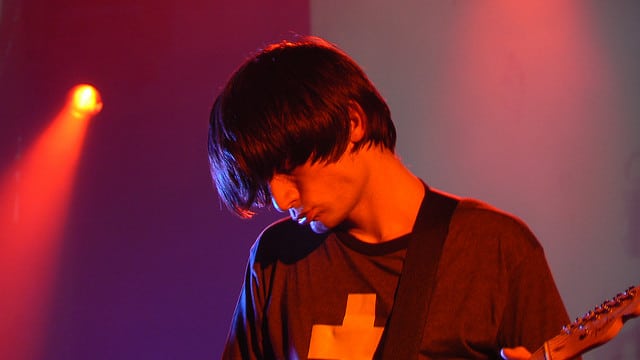 Radiohead's guitarist Jonny Greenwood is featuring heavily on the new Paul Thomas Anderson film soundtrack.
Songs by Neil Young, Can, Minnie Ripperton and a Supergrass cover of Radiohead's track 'Spooks', all appear on the 'Inherent Vice' soundtrack.
Initially it was thought that Radiohead were re-recording an old live track for the P.T. Anderson movie. The 'Spooks' song dates back to 2006, a Danish fan captured the upbeat instrumental version on video during a gig in Copenhagen.
Even though we now know that Radiohead will not feature on the soundtrack, Jonny Greenwood has been working with film director Paul Thomas Anderson (There Will Be Blood, Boogie Nights), scoring the director's new film 'Inherent Vice'.
The film is adapted from Thomas Pynchon's novel and is due to be released early next year. It stars Joaquin Phoenix, Reese Witherspoon, Josh Brolin, Owen Wilson and Benicio Del Toro.
The guitarist previously worked on Anderson's film 'The Master', starring Philip Seymour Hoffman and Joaquin Phoenix, the soundtrack featured 11 original compositions by Greenwood. He also wrote the chilling score for Anderson's 2007 release 'There Will Be Blood'.
Watch the trailer for 'Inherent Vice' below.
'Inherent Vice: The Soundtrack' track list:
Jonny Greenwood – 'Shasta'
Can – 'Vitamin C'
Jonny Greenwood – 'Meeting Crocker Fenway'
The Marketts – 'Here Comes the Ho-Dads'
Jonny Greenwood – 'Spooks'
Jonny Greenwood – 'Shasta Fay'
Minnie Riperton – 'Les Fleur'
Jonny Greenwood – 'The Chryskylodon Institute'
Kyu Sakamoto – 'Sukiyaki'
Jonny Greenwood – 'Adrian Prussia'
Neil Young – 'Journey Through the Past'
Les Baxter – 'Simba'
Jonny Greenwood – 'Under the Paving-Stones, the Beach!'
Jonny Greenwood – 'The Golden Fang'
Jonny Greenwood – 'Amethyst'
Jonny Greenwood – 'Shasta Fay Hepworth'
Chuck Jackson – 'Any Day Now'