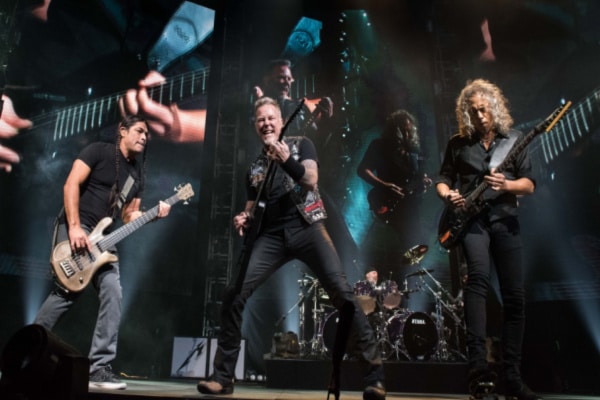 Joseph Quinn from Stranger Things played with Metallica backstage at Lollapalooza this week.
Quinn, known for playing Munson on the show, has re popularised one of Metallica's classic songs Master of Puppets. This was after he preformed it in one of the pivotal scenes in Season four.
The band shared an Instagram video of Quinn and Metallica jamming to some of the bands greatest hits.
View this post on Instagram
In the clip, James Hetfield told Joseph he's a "big fan" of the Netflix series.
"Have been since season one," James shared. "My kids and I, it's been a bonding experience for us."
Later in the video Quinn jams out with the gang, impressing them all with his skills.
"You're hired," Kirk Hammett joked. Meanwhile, Lars Ulrich looked at the camera and said, "We'd like to make an announcement. Metallica is now a five piece."
The rock legends headlined day one of the Chicago festival on Thursday night. The show was full of some of their classics. They shredded through a setlist comprising 'Enter Sandman', 'Nothing Else Matters' and a cover of AC/DC's 'It's A Long Way To The Top (If You Wanna Rock 'N' Roll)', before returning for an encore.
Closing their set with 'Master Of Puppets', they paid homage to the Duffer Brothers' cult Netflix show and its metalhead character Munson (played by Joseph Quinn) with footage of him onscreen. The crowds were more than ecstatic with the nod to Stranger Things.
Stranger Things has been a constant trip down nostalgia lane for fans, as they regularly feature some of the best music to come out of the 80's.
Kate Bush, whose song "Running Up That Hill" also appeared in the season, thanked fans after her song returned to charts nearly 40 years after its initial release.
In mid-July, "Master of Puppets" even reached no. 40 on the Billboard charts, marking the first time the song has appeared in the top 100 since its release in 1986.