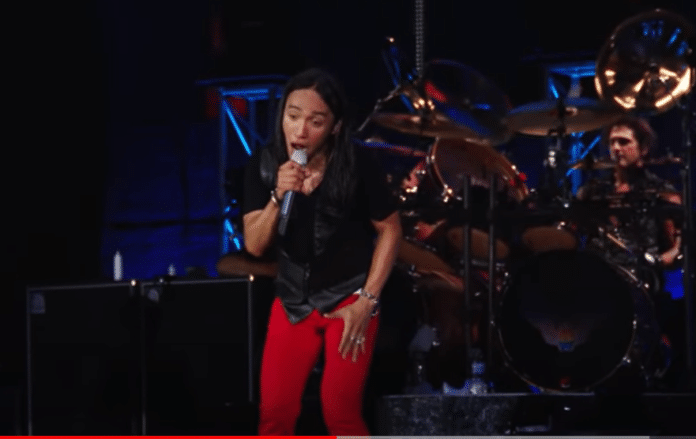 Journey's frontman, Arnel Pineda has said that he would love to see Steve Perry return to work with the band. Pineda grew up idolising Perry with Journey.
On Perry, Pineda said, "He's one of my heroes when it comes to singing. I remember back in the Eighties, I would sleep on the bus with my Walkman on in my ears as his voice sang all these favorite songs from Journey".
Since the pandemic hit last year, Pineda has spent the best part of the last 12 months in his native Manila in the Philippines. Despite this, Pineda told Rollingstone recently that this has not stopped him and the rest of Journey working on a new album.
Pineda said, "Let's see what's going to happen in the coming days. We're on to finishing the album. We finished six songs so far". 
He also added, "We'll see what happens. I'm waiting for them to send me the demos so that we can record it next week".
The frontman also admitted that the pandemic did force the group to think of new ways to work and produce new material. "It's quite hard right now. I have a few melody ideas that I'm into and want to share with them, but you can't right now because of what is happening", he conceded.
Pineda explained how it has been a challenge, but they have managed it. "We use Zoom to record and I turn on my laptop and go into Logic Pro. They get ahold of it. If there's something I want to change, I tell them. But it's all pretty much done and I just record with them".
Pineda also shed some light on how he shares his vocals and music ideas with his bandmates remotely, "I share my computer, like mirroring. They can see what's happening in my laptop. It allows them to hack it for a moment and then they can hear it. It happens in real time". At this point, Pinelda had turned his camera around showing a microphone plugged into a computer in front of a soundproofing foam.
Pineda on Perry: "That's how much I adore him" 
Arnel Pineda also spoke of his sheer admiration for his hero Steve Perry. He also said that he teased Journey bandmates Jonathan Cain and Neal Schon about inviting Perry onto their next tour.
Perry released his first solo album in 20 years back in 2018 with "Traces".
While their new album is expected to be released this year, Perry said he would be thrilled to see Perry return to the band, even at the expense of his own career, such is his admiration for the icon.  "That's how much I adore him and I adore Journey and how much I adore Steve Perry" he admitted.
Pineda added, "I've been teasing Jonathan Cain and Neal Schon. Why don't you invite Steve Perry over for a tour?". I'm delivering on the legacy that the Voice Steve has left behind. Especially now that he formally passed the torch to me in 2017 at the Rock and Roll Hall of Fame induction, he made that known and he was very gracious".