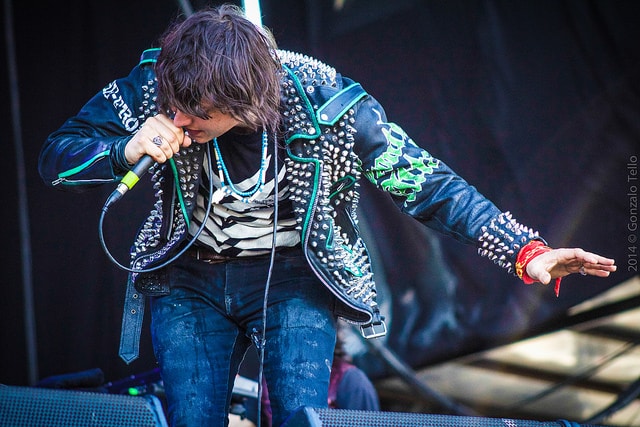 The Strokes' frontman, Julian Casablancas and his band The Voidz have shared a new music video for their track 'Where No Eagles Fly'.
Once again Casablancas has put out footage that looks like it was filmed in the 1980s but hey if you're from the VHS generation you'll love it.
The band is made up of Casablancas (lead vocals), Jeramy "Beardo" Gritter (guitar), Amir Yaghmai (guitar), Jacob Bercovici (bass guitar, synthesizers), Alex Carapetis (drums) and Jeff Kite (keyboard).
The new song 'Where No Eagles Fly', debuted on BBC Radio 6, it is a relentless guitar driven tune, resembling a more Strokes influenced sound, accompanied by a grainy yet entertaining video.
Where No Eagles Fly is directed by the group's guitarist "Beardo" and edited by Andy Sonnefeld.
The new single is a follow up to the 11 minute, electronic infused 'Human Sadness' both taken from the album Tyranny. The singer's last album Phrazes for the Young was released five years ago.
Watch the new video below.
In addition to standard CD, LP, and digital download formats, Tyranny will be available to buy on cassette for €11 and €17 as a USB drive, disguised as a cigarette lighter.
Last year, Casablancas contributed guest vocals to Daft Punk's Random Access Memories on the track 'Instant Crush'. He has also been playing sporadic shows with The Strokes this summer.
Tyranny will be out on September 23rd, being released through Casablancas' record label Cult Records.
Tyranny track list:
1. Take Me in Your Army
2. Crunch Punch
3. M.utually A.ssured D.estruction
4. Human Sadness
5. Where No Eagles Fly
6. Father Electricity
7. Johan Von Bronx
8. Business Dog
9. Xerox
10. Dare I Care
11. Nintendo Blood
12. Off to War…