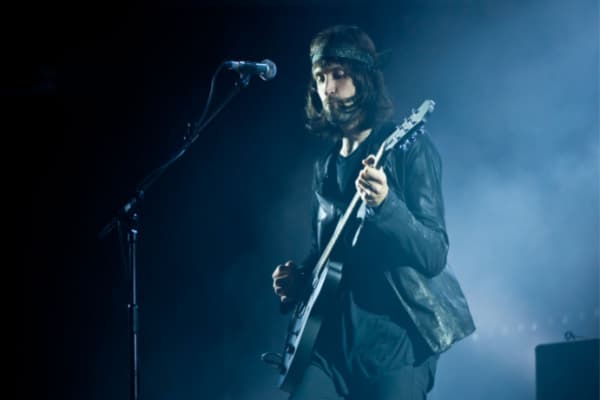 Kasabian have added an extra date as part of their tour of the UK and Ireland.
Following a string of concerts across Europe, Kasabian will begin their tour of the UK and Ireland on October 20 in Belfast's Telegraph Building.
The band will take to the stage at Dublin's 3Olympia Theatre the following day. Remaining tickets for these shows and more can be purchased here.
Following this, Kasabian will tour across the UK, with shows in Manchester on October 28, London a day later. November will see Serge Pizzorno and co perform in Cardiff, Birmingham and Glasgow.
An extra date has been added for Doncaster on October 31.
The band confirmed the news regarding the extra date via their Twitter account.
NEW DATE 🎟We've added The Dome, Doncaster to our tour! Tickets on sale Thursday at 9:30am🎟 https://t.co/t860injJ3m @DoncasterDome pic.twitter.com/98gbBy8wfY

— KasabianHQ (@KasabianHQ) July 25, 2022
Latest Kasabian Album 'The Alchemist's Euphoria'.
This tour was supporting Kasabian's new album, 'The Alchemist's Euphoria'. This will arrive on August 12 via Columba.
It had been intially scheduled to arrive on August 5. However, production had been delayed due to "production issues" at their vinyl plant.
The band had previewed this album last October, releasing this new single "ALYGATYR". This was also their first new single since Tom Meighan's departure from the band.
Meighan has been replaced by frontman by Serge Pizzorno and "ALYGATYR" was the first single with him in the hotseat.
Meighan's departure from the band was confirmed after he pleaded guilty to assaulting his girlfriend Vikki Ager last year. He was sentenced to 200 hours of community service.
"No one in the band wanted this to happen. We have all worked so hard for the past twenty three years and had big plans for our future together. We're completely heartbroken", Kasabian said in a statement at the time.
"But we were left with no choice but to ask Tom to leave the band. There is absolutely no way we can condone his assault conviction. Domestic violence and abuse of any kind is totally unacceptable".
"As soon as we found out about the charges made against Tom, we as a band made the decision that we could no longer work with him. Unfortunately, we had to hold back this information until he was found guilty in court".