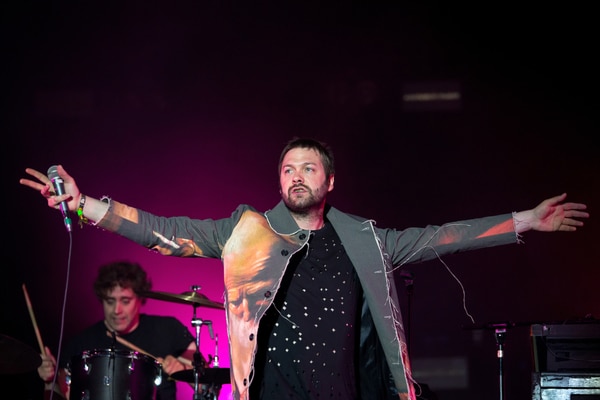 Last night saw Kasabian play their first live show since the departure of frontman Tom Meighan.
Tom Meighan was removed from the band after admitting to assaulting his partner last year. Since then, Vikki Ager the woman who Meighan admitted assaulting, has married the former Kasbian singer. More on that here.
Following hus guilty plea, Meighan was sentenced to 200 hours of community service. He said he left the band to "concentrate all his energies on getting his life back on track".
Tom Meighan also took "full responsibility" for the assault.
"We had too much to drink. I regret everything that happened that night – what I can remember of it. I don't condone it – it's horrific. Adding that he "loves my partner to pieces", he said last year.
"I was at a boiling point in my life – I didn't know where things were heading."
He also added, I was drowning myself with drink because of my problems and things going on around me. We had a fight and I took the brunt for it. I was fully responsible for what happened but we love each other and we're getting over it".
"That was the lowest point of my life – I felt dead. I was a corpse walking around".
He "felt like I'd died on the day of the court case. I couldn't get any lower. The media made it a thing, but I have a conscience and I say to Vix how sorry I am about it".
Meighan also revealed that he planned to release a solo album in the future.
Kasabian first gigs without Meighan
Following Meighan's departure, Kasabian confirmed back in May that they would perform live at a set of intimate shows, with guitarist Serge Pizzorno deputising as frontman in Meighan's absence.
The band performed some of their classics, including "Underdog", "L.S.F", and "Club Foot".
Check out the footage below.
Don't wanty ever hear that Serge can't hold a crowd. pic.twitter.com/eYVVXLvvrc

— Ryan Mac (@RMcC_92) October 13, 2021
The return of #Kasabian!! pic.twitter.com/YX306JtP16

— Ryan Mac (@RMcC_92) October 13, 2021