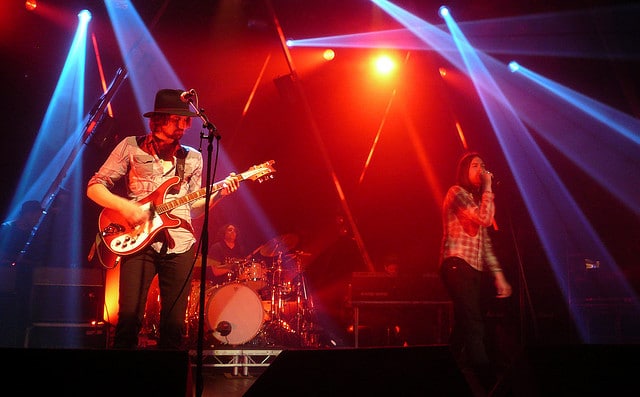 Leicester rockers Kasabian claim people have the wrong impression about the group since they released their latest album.
Kasabian put out their fifth album 48:13 this year in June and the record was produced by the band's guitarist Sergio Pizzorno.
The LP went straight in to the number one spot on the UK album charts, their fourth album to do so, and rose to the number 2 position on the Irish album charts.
Despite their ongoing success, Kasabian feel like there's a false impression of the group and that the public "can't understand" what it is they stand for.
In an interview with NME, Serge Pizzorno says: "We've always been that band that people get wrong. They can't understand what we're about. More and more people are beginning to say, 'Oh, OK, I've gotten them totally wrong.'
"We've had more apologies on this record than we've ever had before – people who've never really got it, people who saw the Glastonbury show or who lived with the record for a while and said to us, 'We just went along with what everyone else thought you were.'"
Pizzorno also confronted the recent comments made by Billy Bragg about the Leicester band. Bragg remarked that Kasabian "are there to remind us how true Spinal Tap was."
Serge replied: "It's always disappointing when someone like him stoops to that level, portrays themselves in that way. It's a broadsheet, middle class way of thinking, man."
Speaking about their next record he said: "I'm always thinking about [the next record]. As soon as a week's passed after finishing one record, I'm on to the next. I've no idea whatsoever what it's going to be like yet – this is the best bit 'cos it could go anywhere. But it'll definitely be heavy. It'll definitely be bombastic. That's what's going on in my head right now."