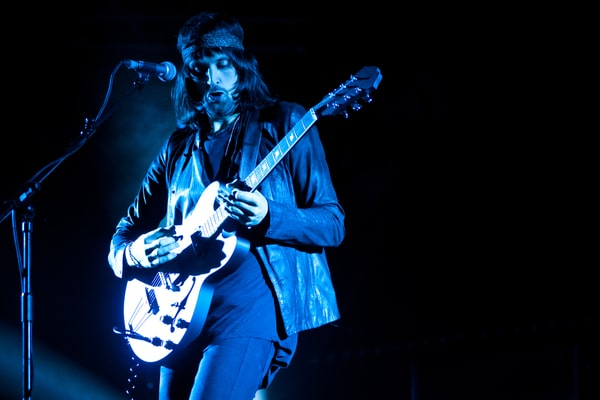 Kasabian have released their new track "ALYGATYR". This is the band's first video since the departure of frontman Tom Meighan from the band.
Tom Meighan left the band and was subsequently removed from Kasabian's merchandise and touring companies after he admitted to assaulting his partner Vikki Ager last year. He pleaded guilty and was also sentenced to 200 hours community service.
Back in July, the band said in this in a statement.
"No one in the band wanted this to happen. We have all worked so hard for the past twenty three years and had big plans for our future together. We're completely heartbroken. But we were left with no choice but to ask Tom to leave the band. There is absolutely no way we can condone his assault conviction. Domestic violence and abuse of any kind is totally unacceptable". 
They also added, "As soon as we found out about the charges made against Tom, we as a band made the decision that we could no longer work with him. Unfortunately, we had to hold back this information until he was found guilty in court". More on this here. 
"ALYGATYR"
Yesterday (October 26), the band shared a cryptic black and white message via social media, signalling a new era. This video runs for 15 seconds and was also soundtracked by a guitar-heavy distorted instruemental.
Meighan has been replaced as Kasabian's frontman by guitarist Serge Pizzorno. "ALYGATYR" was written by Pizzorno and produced by and him and Fraser T Smith.
Check out the track below.
Kasabian first gig since Meighan departure
Earlier this month, Kasabain also performed their first live show since Tom Meighan's departure.
Beginning their 2021 UK Tour, Kasabian finish their tour in London's O2 Academy Brixton next Tuesday (November 2). The Music's Rob Harvey also appeared during the tour as a touring member of the band.
The dates for this tour are as follows.
OCTOBER 2021
27 – Leicester, De Montfort Hall
28 – Bournemouth, O2 Academy
30 – Southampton, O2 Guildhall
31 – Bristol, O2 Academy
NOVEMBER 2021   
2 – London, O2 Academy Brixton
Kasabian are to also headline the Isle of Wight Festival and Neighbourhood next year.
Following his conviction, Tom Meighan and his partner Vikki Ager got married back in July. 
On the nuptuals, a statement said, "Tom has worked so hard on himself, his health, family unit and his relationship with Vikki over the past year". 
Revealing that he was suffering from alcohol addiction around the time he assaulted Vikki, Meighan said in an interview, "I am very sorry and deeply regret my recent behaviour. In no way am I trying to condone my actions or make excuses". 
He added, "I am completely to blame and accept all responsibility".