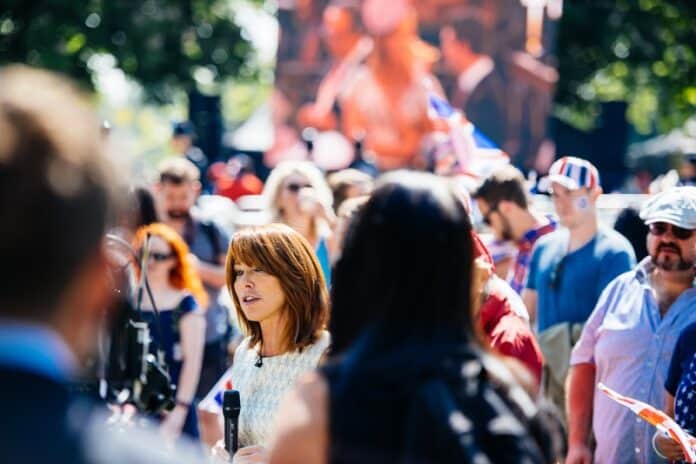 It has emerged that staff at Sky put plans in place to set up Kay Burley as she broke Covid regulations to celebrate her birthday party.
According to The Mail on Sunday, disgruntled staff at Sky were growing tired and resentful of Burley and her behaviour. They saw her plans to celebrate her birthday as a way to bring her down.
The staff hired a paparazzi photographer and used an encrypted email service to leak the photos and story to the media.
They heard Burley talk about her plans to visit two restaurants with a group that was bigger than six people. The group consisted of friends and other Sky colleagues such as political editor Beth Rigby, correspondent Inzamam Rashid and presenter Sam Washington. Sky officials felt that Washington's role in the breach was minor and that is why she remains on TV.
According to sources, the staff felt that "it was a case of boom, this could really bring her down. They thought, if she gets caught, that would be the end for her." 
Once the staff received the pictures, they used an email service called proton email. It is encrypted so emails can't be shared with third parties and guarantees anonymity.
Staff first sent the story and pictures to The Sun newspaper, yet they refused to run with the article. It was then sent to Westminster gossip site, Guido Fawkes and the rest of the media then picked up on the story.
Kay Burley has now been taken off air for six months on full pay. Rigby and Rashid will be off air for three months.
Senior Sky officials were livid at the news. Burley's first apology on Twitter did not go down well with her bosses. There was a sense at Sky that, they have had a good year. Their viewing figures and coverage of the pandemic has been good. However, the breach by Burley and others is said to have let the whole organisation down.
A Sky source said "The network has had a great year – the viewing figures have been good and the team have been commended for doing such a good job of covering coronavirus. Now this happens. It is totally unfair on the rest of the staff. What's more, they are furious she has been given six months off on full pay. What sort of message does that send?"
Kay Burley presents the breakfast show on Sky news and it is also airs on Sky One. It is unlikely that Burley will be presenting the show when she returns as officials at Sky believe the ratings and viewership could be better given the time and availability of the breakfast show.
One source said "There is a feeling of relief and that bosses now have the opportunity to dump the show and put her somewhere else."
Another Sky source added "How can hypocrites such as her, or Beth Rigby, ever hold a person in power to account again without being ridiculed".