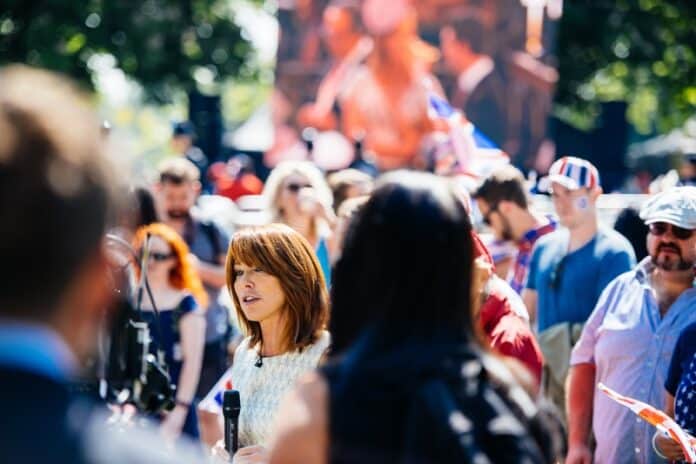 Sky News presenter Kay Burley has been taken off air for six months after she was caught breaking Covid-19 regulations in London last weekend.
The presenter was celebrating her 60th birthday in London. She had booked two tables in a restaurant, one with six people and one with four people. This is not allowed under tier-2 regulations in England, as you are not allowed to have a meal with someone that is not from your household or support bubble.
While waiting on a taxi, Burley said she went into another restaurant to use the bathroom.
Burley then had some guests back to her home for more drinks. There were other Sky News employees implicated in this mess. Political editor Beth Rigby and correspondent Inzamam Rashid have been taken off air for three months as well for their part in the breach.
Sky News editor at large, Adam Boulton told The Guardian that the incident raises concerns about "the credibility of our journalism".
In a statement, Sky News said:
"As a result of an internal review Sky News presenter Kay Burley has agreed to be off air for six months, and political editor Beth Rigby and correspondent Inzamam Rashid have agreed to be off air for three months.
All those involved regret the incident and have apologised.
Everyone at Sky News is expected to comply with the rules and the company takes breaches like this very seriously indeed."
Kay Burley also released a statement on the matter and said:
"I have today agreed with Sky News to step back from my broadcasting role for a period of reflection."
Burley is off to Africa this week for a safari. Her initial tweets in where she apologised for her actions did not go down well at Sky. You can read Radio Nova's report on it here.
According to The Guardian, Burley will be paid for the entire six months. Sky sources spoke to the paper and were aggrieved at the situation.
One source said "something ugly about the glee with which some places have gone after her. She didn't kill anyone. The tweets haven't been great … full pay for six months when you're on what she's on is a nice punishment."
Another source said "Lots of us have asked for pay rises/bonuses for the last few years and been told there's no budget."
With vaccines being rolled out, there seems to be an end in sight to the pandemic. Burley being off air for six months means she will not be able to report on that and any other major news that will break in the next six months.
Her actions and those of her fellow employees have tarnished Sky and will make it more difficult for the organisation to grill politicians or public representatives about their own wrong doings.