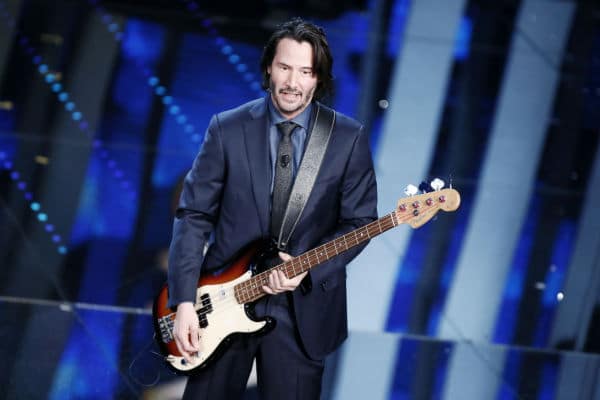 Would you like to listen to the article instead of reading it?
Grundge music group Dogstar who feature Hollywood actor Keanu Reeves in their line up, are to release their first album in 23 years.
This would mark Dogstar's first release since 2000's 'Happy Ending'. 
The band who also feature Gregg Miller, Bret Domrose, and Robert Mailhouse, alongside Reeves, confirmed this news via Instagram, having reunited last Summer.
"didn't expect this"
Taking to Instagram, Dogstar who include actor Keanu Reeves on bass guitar, released this statement.
"Honestly, didn't expect this. It makes us want to play out even more", Dogstar wrote.
"We will be rolling out some new music this summer, followed by some gigs. As soon as it's all figured out we will let everyone know immediately".
They continued, "So much to do, but rest assured, we are on it and have assembled a fantastic team that are helping us", they continued. "We are also going to make a music video to support our first tune. That's all I can say now. Can't wait to share our new music with everyone".
"It's the most satisfying and meaningful batch of songs we've ever done. Thanks again for being so patient with us. We truly have the best, most loyal fans!". 
Having released their debut record 'Our Little Visionary' in 1996, Dogstar have several bands that opened for them at shows, who subequently achieved huge success, including Weezer.
In fact, Weezer's first ever show was to open for Dogstar, while punk group Rancid also opened for Dogstar at a show in the past.
Speaking of Weezer, the band were forced to cancel their residency at Broadway due to low ticket sales.
The shows which were to kick off on 13 September 2022, were to focus on a different  'SZNZ EP'.
However, these shows were subsequently cancelled, with frontman Rivers Cuomo releasing a statement.
"I just learned that our Broadway shows have been cancelled (due to low ticket sales and unbelievably high expenses.)", he wrote.
"I'm very sorry to be telling you this now after we've already invested so much time, thought, and emotion". More on that here.