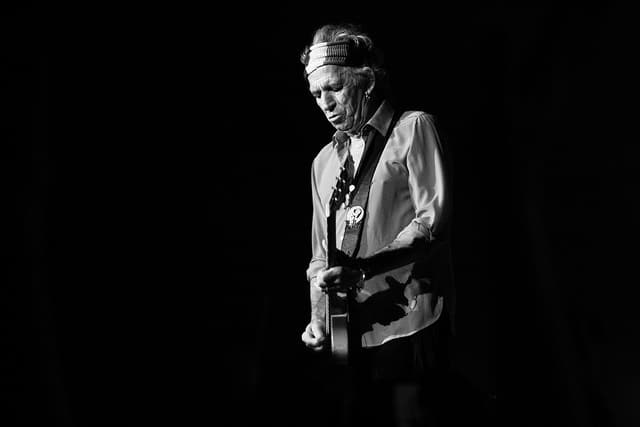 The BBC have announced that Keith Richards is to curate a weekend's programming on BBC Four later this month.
Richards will choose each show which is broadcast on the channel throughout the weekend, along with an in-depth interview with the Rolling Stones guitarist. Julian Temple, who directs the interview has said  "The programming will be interwoven with a uniquely relaxed, wide-ranging and intimate interview in which Keith shares his legacy, world views, life philosophy and survival strategies with viewers. It's an open invitation for the audience to get to know Keith in-depth over three nights in a way that has never been seen before."
Richards' selection of programming will include Alfred Hitchcock's The 39 Steps, The Man Who Would Be King, 1948 Italian classic Bicycle Thieves, a 1947 film noir Out of the Past, and macabre horror movies The Sorcerers and I Walked with a Zombie. Plus there will be archive treats featuring Johnny Cash, Jimi Hendrix with Keith, and never seen before archive of the Rolling Stones.
Editor of BBC Four, Cassian Harrisson has said  "BBC Four has always been the home of singular, eclectic and passionate voices – and who would qualify more for that moniker than the legendary Mr Richards. I'm delighted (if also a little nervous) to be entrusting the channel to Keith and to journeying with him through the night, enabling viewers to spend a weekend on BBC Four with one of the most famous and intriguing people in the world in a way that transcends the bounds of a traditional channel."
Photo Cred: Aka Francois Aka Mister Pink