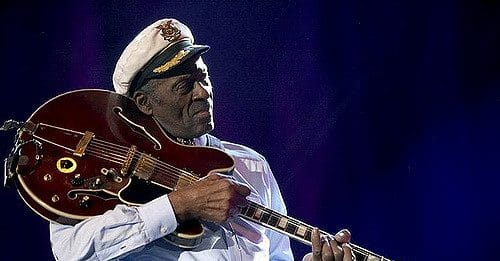 Rolling Stones' Keith Richards sat down with Rolling Stone magazine to speak about the late great Chuck Berry, and that time Berry punched him in the face …
When legendary guitarist Chuck Berry passed away last month, major recording artists old and young expressed their grief and cited the rock music legend as a leading influence to their own sound. Bands such as Green Day, Red Hot Chili Peppers, the Roots and Sting paid tribute to the late rocker through music, covering his 1958 classic, 'Johnny be Goode'.
Richards also shared a touching tribute to the late musician calling him "the granddaddy of us all". However things weren't always rosy between the two musicians; Richards also spoke about that one time when Berry gave him a shiner!
"Chuck Berry once gave me a black eye, which I later called his greatest hit. We saw him play in New York somewhere, and afterward I was backstage in his dressing room, where his guitar was lying in its case. I wanted to look, out of professional interest, and as I'm just plucking the strings, Chuck walked in and gave me this wallop to the frickin' left eye. But I realized I was in the wrong. If I walked into my dressing room and saw somebody fiddling with my ax, it would be perfectly all right to sock 'em, you know? I just got caught."
All was forgiven and the two musicians later worked together on 1986 movie "Hail! Hail! Rock 'n' Roll". Richards recalls how he even moved into Berry's house in Berry Park for a few weeks while working on it:
"It was a childhood dream come true – I'm living at Chuck Berry's house, putting a band together with him! Steve Jordan, Chuck Leavell and [NRBQ's] Joey Spampinato were there too, and every day was an adventure. One night I woke up and found him outside the door with this enormous machine, shampooing the rug at three in the morning: "It's gotta get done!"
On learning of Berry's death Richards said, "When I got the call that he was gone, it wasn't a total, unexpected shock, but I kind of got the strange feeling that I remembered when Buddy Holly died. I was in school, and this whisper started to go around the classroom. The whole class gave this collective gasp of horror. This was that same blow to the gut. It hit me harder than I expected. But Chuck certainly hung in there. There's another thing I hope to emulate."
Picture Credit:Dena Flows