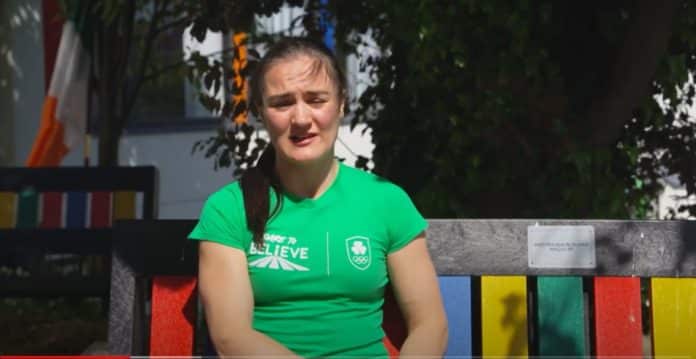 Boxer Kellie Harrington is guaranteed an Olympic medal following victory over Algeria's Imane Khelif.
Despite admitting to being nervous in the build up to this fight, Harrignton secured victory on a unaminous points decision.
Despite Khelif's height and reach advantage, Harrington found a way through the Algerian's defences. She won the opening round according to four out of the five judges.
Harrington was also awarded the second round, despite falling over midway through the round due to an open lace. She still managed to pick her punches on her opponent.
This meant that victory was as good as in the bag by the time the third round began. Once again, the Dubliner got the backing of the judges to book her place into the semi finals.
Harrignton's exploits also insure medal number four for Ireland at these games, following Aidan Walshe's bronze success, along with Paul O'Donovan and Fintan McCarthy's gold in the rowing and bronze for the women's four at the rowing. 
"I have a feeling" – Harrington
Before the judges decision was announced, Harrignton went back to Zaur Anita and John Conlon in her corner and told them "I have a feeling" as the Black Eyed Peas track was played on the sound system.
"I'm overwhelmed with emotions", Harrington told RTÉ afterwards.
"You think of getting here and I never think of getting medals", she added. Sometimes I think I'm lucky. I can't be that lucky to be winning all these things and end up here with a bronze medal in my bag from the Olympic Games". 
"Hakuna matata"
She also added, "Everything I've achieved I owe to Noel Burke, who is my club coach at home. I owe it to these men [Zaur Antia and John Conlan] and the rest of the high performance team. Not only this, I owe it to my team mates, as well, for all the sparring and the preparation and support that they've give me out here – and we give each other – it's just been fantastic".
"The support that I'm getting from the community back home … I've heard that it's lit back home. I'm just so happy and my emotions really come [out] when it comes to this. To be able to give them something to be happy about and to sing and dance. Just for one person lifting the nation". 
"Of her opponent Harrington said: "Very, very awkward and throwing from real far, but making mad grunting noises. She had really long arms and it was hard to get in and do what I would like to do".
"It wasn't an amazing fight but it was a fight that I won – I did enough to win it. She was smiling at me and sticking out her tongue. I was smiling back as if to say, 'it's all fun and games until my hand gets lifted!'.
"Hakuna Matata – it means no worries for the rest of your days and that's what the Lion King says!". 
Kelly Harrington will now face Thailand's Sudaporn Seesondee in the semi final at 6am Irish time on Thursday.
'I'm overwhelmed with emotion… You think of getting here but you never think of getting medals'@Kelly64kg pays tribute to coaches, team-mates and community#tokyo2020 #RTESport #boxing #olympics

📺 Watch – https://t.co/hHD01dUcII

📱 Updates – https://t.co/WA9s2jBflo pic.twitter.com/EhSY6oqYrL

— RTÉ Sport (@RTEsport) August 3, 2021