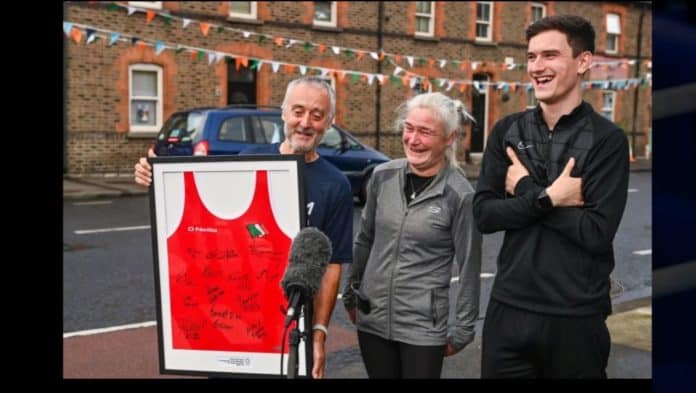 Kellie Harrington's father has called for the whole country to pray for his daughter ahead of her shot at Olympic gold this weekend. 
Boxer Kellie is through the the lightweight decider, having beaten Thailand's Sudaporn Seesondee on Thursday.
Harrignton had also beaten Imane Khelif in the quarter finals to guarantee an Olympic medal.
Speaking yesterday, Kellie Harrignton also said it was the stuff of dreams to this get far in the competition. She has also become the first Irish female boxer to fight for a gold medal since Katie Taylor in 2012.
"It's fantastic", she said. "Olympic silver medallist. That's the stuff that people dream about. Many tried to get there, many don't have what it takes to succeed because they don't have the willpower, the determination, the focus, the dedication". 
And now, Harrignton will taken on Brazil's Beatriz Ferreira for a chance to win Olympic gold.
Kellie Harrington "The Queen of Portland Row"
With Harrington's native Portland Rush a sea of green, white and gold, Dublin's inner city is at fever pitch. Neighbours have been hailing her as the "queen of Portland Row".
While neighbours are calling for a big screen to be erected ahead of the showdown, Kellie's family are "cautious" about large crowds during this pandemic.
"Kellie works as a cleaner in St Vincent's hospital, and she worked there during the pandemic", a relative said. "She wouldn't want anything to cause any issues so we will be cautious". 
"We would ask people to have faith"
While mother Yvonne does not watch the fights on tv, the rest of the family tune in, including her proud father Christy.
"My wife doesn't watch any of her fights", Christy explained. "No mothers watch the fights, it's funny isn't it?". 
"She will pray, it is not a religious thing, it is an Irish thing", he added.
He did also have one wish of the people of Ireland.
"But we would ask people to have faith, to say an auld prayer for us, in case our message doesn't get through", he said.
Harrington family are "Beyond proud"
Christy added that the family are already "beyond proud" of Kellie's achievements so far and knows that his daughter will be determined to win gold.
"Kellie is so dedicated, she won't be stopping here", he insisted. "She will give it everything to get the gold". 
"She's already made us so proud, beyond proud. Never mind the medals, just by making it to the Olympics", he added. "She is capable of getting the gold if it all works out". 
Kellies' mother, Yvonne Harrington also added, "I'm confident she will do it, she is so focused. Whatever happens, we are just delighted for her". 
"Sunflowers are here to stay"
It was reported in the Irish Sun that Christy believes that five sunflowers which were planted outside their Dublin home to represent the Olympic rings has become somewhat of a lucky charm, proclaiming "The sunflowers are here to stay!". 
Christy does not own a garden himself, but he has kept seeds in reserve after he planted sunflowers at the HSE Care Centre where he works as a cleaner.
It has now become a local attraction, with people flocking from all over to take pictures of the shrine.
 "It is just magic", Christy said. "People are coming all the time. It's the simple things that count".