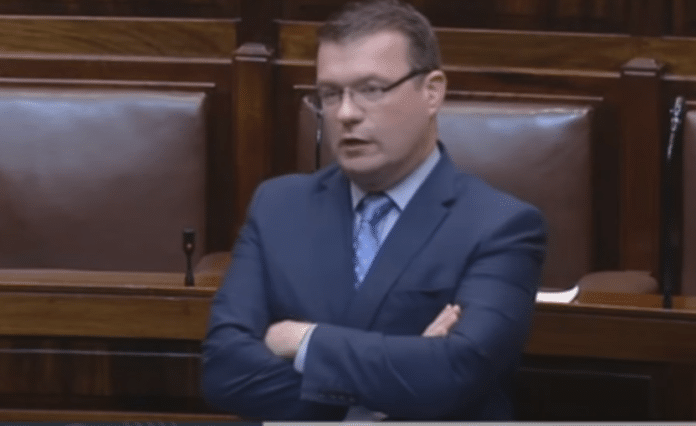 TD Alan Kelly put his failure to wear a facemask on public transport down to being "distracted watching Man United".
The Labour Leader issued his apology after photographs of his maskless appearance, emerged recently.
In his statement, Kelly said, "I am a strong supporter of the public health guidlines and rules, I always endeavour  to wear my mask where required". 
"My track record on calling for clear guidelines around mask-wearing speaks for itself."
"While getting the Luas home last night I obviously inadvertently didn't have my mask on for a period and I want to apologise for this mistake."
"I was distracted while watching the Man United match on my phone and adjusting my headphones at the same time. We all make mistakes. Sorry." 
In the match that Kelly was watching, Manchester United lost  3-2 to RB Leipzig and exited the Champions League at the Group Stages.
Passsengers can expect fines of up to €80, if they are caught not wearing a facemask. More information can be found here.
Despite this "mistake", Labour leader Kelly, has often challenged the Government on policies such as facemasks and more recently, Covid-19 vaccines.
Vaccine Rollout and Facemasks:
This has all come, after the Labour Leader urged all TDs and Senators to sign a pledge, supporting the rollout of a Covid-19 Vaccine. He has also continued to urge the public to wear facemasks or coverings on public transport.
In recent weeks, Kelly has even challenged the Government on its vaccine rollout plan. This includes calling for a Vaccine Minister!
He has also regulary advocated the use of facemasks. He criticised the last Government for the "chronic disaster" in communication around wearing them or visors.
In October, he stated the Government needed to be clearer when advising the public to wear masks, instead of visors.
He told the Dáil, "We have to communicate to the public and get across the difference between bloody visors and proper masks. There is a huge difference. I have stressed for a week to the Taoiseach and Minister for Health. We really need to deal with this and we need to practice what we preach in here".