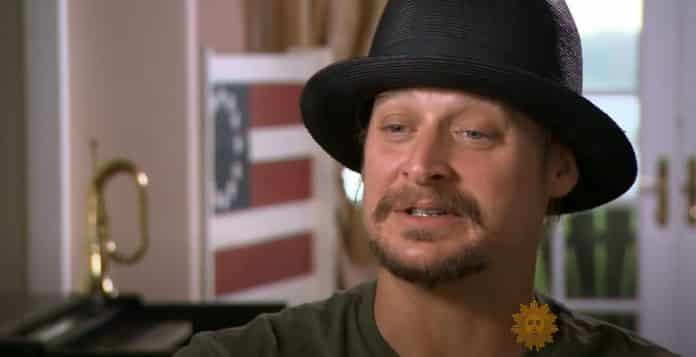 Kid Rock has cancelled his upcoming shows after most of his band tested positive for Covid-19.
The 50 year old rocker had been pencilled in to play at Billy Bob's in Fort Worth this weekend.
"I am sorry"
Kid Rock announced this news through a series of tweets.
"Billy Bob's Shows This Weekend… I am pissed", the rocker whose real name is Bob Ritchie wrote.
"Over half the band has fucking covid (not me), and before u shit for brains bloggers and media trolls run your mouths, many of them, like me, have been vaccinated. I was gonna come and rock the house anyway, play acoustic, DJ or even just Juggle…. Deez Nutz!! – or at least try to entertain u good folks", he continued.
"But seriously, shit is way out of my hands on this one. I am beyond upset and you real ones know I would never cancel if I absolutely didn't have too. For this, I am sorry". 
Kid Rock also added in the postscript, "God bless our military, especially those who lost their lives today in Afghanistan. I am way more upset about that than some stupid virus and missing a couple shows. My heart bleeds for them and their loved ones". 
The "All Summer Long" singer also added, "I hope we bomb the shit out of those fucks and send a clear message…But I am worried Biden is too much of a woke pussy. Say a prayer for the fallen, count your blessings and God Bless America". 
— KidRock (@KidRock) August 26, 2021
Kid Rock defends homophobic tweet
Back in June, Kid Rock spoke about a homophobic slur he made whilst on stage. The rocker was ranting about audience members filming him on their phones while on stage in Tennessee.
The audience recorded Kid Rock shouting  "f*** your iPhone" and rebuking "you f****** f*****s with your iPhones out!!!".
Taking to Twitter, Kid Rock insisted that he has "love" for gay friends.
He tweeted, "If Kid Rock using the word f-t offends you, good chance you are one," the rocker tweeted. "Either way, I know he has a lot of love for his gay friends, and I will have a talk with him. Have a nice day. -Bob Ritchie".
More on this here.